Stijlvolle bescherming met hittebestendige lak in kleur
Materialen in diverse industrieën vragen om een optimale bescherming bij hoge temperaturen. Met name in de chemische en petrochemische industrie en voor onderdelen in de automobielindustrie is het toepassen van hittebestendige lak in kleur een must.
Bescherming voor elke toepassing
Voor alle metalen oppervlakken biedt Korthals een oplossing. Speciaal voor toepassingen waarbij de temperatuur kan oplopen tot wel 600 °C, heeft Korthals 'Briosil' ontwikkeld. De verflaag van 'Briosil' blijft altijd gesloten, ook bij grote temperatuurschommelingen. Zo bent u verzekerd van een optimale bescherming na het behandelen van ovens, ketels, pijpleidingen, uitlaten, warmtewisselaars of kachels.
De hittebestendige lak in kleur is verkrijgbaar in twee typen, namelijk:
Briosil 4: Hittebestendig tot maximaal 400°C
Briosil 6: Hittebestendig tot maximaal 600°C
Meerdere functies van hittebeschermende lak
Naast de beschermende werking, kunnen hittebestendige lakken nog meer functies hebben. Verfraaiing of het zorgen voor zichtbaarheid zijn daar twee voorbeelden van. Denk bijvoorbeeld aan lak in de kleuren van uw bedrijfsidentiteit. Zo creëert u eenheid en herkent iedereen de kleuren die bij uw bedrijf horen.
Met name de wens naar zichtbaarheid kan in de chemische- en petrochemische industrie belangrijk zijn. Standaardkleuren als zwart, antraciet of aluminium voldoen in dit geval vaak niet omdat deze niet opvallen. Een hittebestendige lak in kleur valt op en geeft een waarschuwing af dat het materiaal heet kan zijn.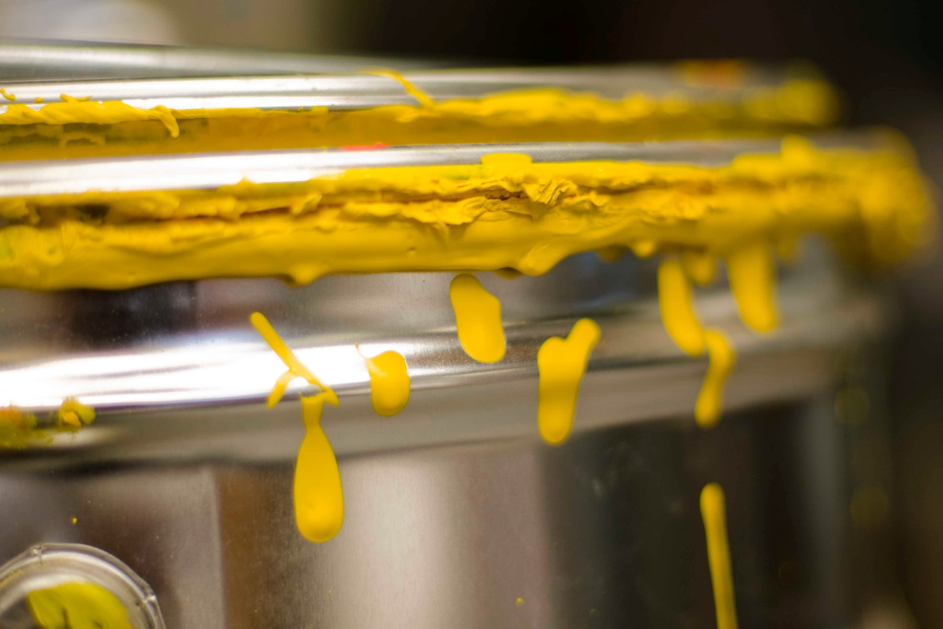 Uw lak in elke gewenste kleur
De hittebestendige lakken zijn verkrijgbaar in de kleuren zwart en leafing aluminium. Andere kleuren zijn ook mogelijk, hoewel niet alle pigmenten bestand zijn tegen hoge temperaturen. Op verzoek bekijken we de mogelijkheden om de door u gewenste kleuren te realiseren.
Meer weten over onze hittebestendige lak in kleur? Neem dan vrijblijvend contact met ons op.
Bekijk hier de adviestool voor hittebestendige lakken
---
Publicatiedatum: 2019-02-06
Categorie: Nieuws
[gravityform id="17" title="false" description="false"]
<script type="text/javascript">var gform;gform||(document.addEventListener("gform_main_scripts_loaded",function(){gform.scriptsLoaded=!0}),window.addEventListener("DOMContentLoaded",function(){gform.domLoaded=!0}),gform={domLoaded:!1,scriptsLoaded:!1,initializeOnLoaded:function(o){gform.domLoaded&&gform.scriptsLoaded?o():!gform.domLoaded&&gform.scriptsLoaded?window.addEventListener("DOMContentLoaded",o):document.addEventListener("gform_main_scripts_loaded",o)},hooks:{action:{},filter:{}},addAction:function(o,n,r,t){gform.addHook("action",o,n,r,t)},addFilter:function(o,n,r,t){gform.addHook("filter",o,n,r,t)},doAction:function(o){gform.doHook("action",o,arguments)},applyFilters:function(o){return gform.doHook("filter",o,arguments)},removeAction:function(o,n){gform.removeHook("action",o,n)},removeFilter:function(o,n,r){gform.removeHook("filter",o,n,r)},addHook:function(o,n,r,t,i){null==gform.hooks[o][n]&&(gform.hooks[o][n]=[]);var e=gform.hooks[o][n];null==i&&(i=n+"_"+e.length),gform.hooks[o][n].push({tag:i,callable:r,priority:t=null==t?10:t})},doHook:function(n,o,r){var t;if(r=Array.prototype.slice.call(r,1),null!=gform.hooks[n][o]&&((o=gform.hooks[n][o]).sort(function(o,n){return o.priority-n.priority}),o.forEach(function(o){"function"!=typeof(t=o.callable)&&(t=window[t]),"action"==n?t.apply(null,r):r[0]=t.apply(null,r)})),"filter"==n)return r[0]},removeHook:function(o,n,t,i){var r;null!=gform.hooks[o][n]&&(r=(r=gform.hooks[o][n]).filter(function(o,n,r){return!!(null!=i&&i!=o.tag||null!=t&&t!=o.priority)}),gform.hooks[o][n]=r)}});</script> <div class='gf_browser_unknown gform_wrapper gform_legacy_markup_wrapper' id='gform_wrapper_17' ><form method='post' enctype='multipart/form-data' id='gform_17' action='/nieuws/stijlvolle-bescherming-met-hittebestendige-lak-in-kleur/' > <div class='gform_body gform-body'><ul id='gform_fields_17' class='gform_fields top_label form_sublabel_below description_below'><li id="field_17_1" class="gfield medium gfield_contains_required field_sublabel_hidden_label field_description_below hidden_label gfield_visibility_visible" data-js-reload="field_17_1"><label class='gfield_label gfield_label_before_complex' >Naam<span class="gfield_required"><span class="gfield_required gfield_required_asterisk">*</span></span></label><div class='ginput_complex ginput_container no_prefix has_first_name no_middle_name no_last_name no_suffix gf_name_has_1 ginput_container_name' id='input_17_1'> <span id='input_17_1_3_container' class='name_first' > <input type='text' name='input_1.3' id='input_17_1_3' value='' aria-required='true' placeholder='Voornaam' /> <label for='input_17_1_3' class='hidden_sub_label screen-reader-text'>Voornaam</label> </span> </div></li><li id="field_17_2" class="gfield optin gfield_contains_required field_sublabel_below field_description_below hidden_label gfield_visibility_visible" data-js-reload="field_17_2"><label class='gfield_label' for='input_17_2' >Email<span class="gfield_required"><span class="gfield_required gfield_required_asterisk">*</span></span></label><div class='ginput_container ginput_container_email'> <input name='input_2' id='input_17_2' type='text' value='' class='medium' placeholder='E-mailadres' aria-required="true" aria-invalid="false" /> </div></li><li id="field_17_3" class="gfield gform_hidden field_sublabel_below field_description_below gfield_visibility_visible" data-js-reload="field_17_3"><div class='ginput_container ginput_container_text'><input name='input_3' id='input_17_3' type='hidden' class='gform_hidden' aria-invalid="false" value='https://www.korthals.nl/nieuws/stijlvolle-bescherming-met-hittebestendige-lak-in-kleur/' /></div></li><li id="field_17_4" class="gfield gform_validation_container field_sublabel_below field_description_below gfield_visibility_visible" data-js-reload="field_17_4"><label class='gfield_label' for='input_17_4' >Comments</label><div class='ginput_container'><input name='input_4' id='input_17_4' type='text' value='' /></div><div class='gfield_description' id='gfield_description_17_4'>Dit veld is bedoeld voor validatiedoeleinden en moet niet worden gewijzigd.</div></li></ul></div> <div class='gform_footer top_label'> <input type="submit" id="gform_submit_button_17" class="gform_button button btn btn-primary" value="DOWNLOAD DIRECT" onclick='if(window["gf_submitting_17"]){return false;} window["gf_submitting_17"]=true; ' onkeypress='if( event.keyCode == 13 ){ if(window["gf_submitting_17"]){return false;} window["gf_submitting_17"]=true; jQuery("#gform_17").trigger("submit",[true]); }'> <input type='hidden' class='gform_hidden' name='is_submit_17' value='1' /> <input type='hidden' class='gform_hidden' name='gform_submit' value='17' /> <input type='hidden' class='gform_hidden' name='gform_unique_id' value='' /> <input type='hidden' class='gform_hidden' name='state_17' value='WyJbXSIsIjJhZmEzYzVhOWIwMGNiYmVjODQ3NDY4MzU3ZTYxY2MyIl0=' /> <input type='hidden' class='gform_hidden' name='gform_target_page_number_17' id='gform_target_page_number_17' value='0' /> <input type='hidden' class='gform_hidden' name='gform_source_page_number_17' id='gform_source_page_number_17' value='1' /> <input type='hidden' name='gform_field_values' value='' /> </div> <p style="display: none !important;"><label>&#916;<textarea name="ak_hp_textarea" cols="45" rows="8" maxlength="100"></textarea></label><input type="hidden" id="ak_js_1" name="ak_js" value="33"/><script>document.getElementById( "ak_js_1" ).setAttribute( "value", ( new Date() ).getTime() );</script></p></form> </div>
[gravityform id="17" title="false" description="false"]
<div class='gf_browser_unknown gform_wrapper gform_legacy_markup_wrapper' id='gform_wrapper_17' ><form method='post' enctype='multipart/form-data' id='gform_17' action='/nieuws/stijlvolle-bescherming-met-hittebestendige-lak-in-kleur/' > <div class='gform_body gform-body'><ul id='gform_fields_17' class='gform_fields top_label form_sublabel_below description_below'><li id="field_17_1" class="gfield medium gfield_contains_required field_sublabel_hidden_label field_description_below hidden_label gfield_visibility_visible" data-js-reload="field_17_1"><label class='gfield_label gfield_label_before_complex' >Naam<span class="gfield_required"><span class="gfield_required gfield_required_asterisk">*</span></span></label><div class='ginput_complex ginput_container no_prefix has_first_name no_middle_name no_last_name no_suffix gf_name_has_1 ginput_container_name' id='input_17_1'> <span id='input_17_1_3_container' class='name_first' > <input type='text' name='input_1.3' id='input_17_1_3' value='' aria-required='true' placeholder='Voornaam' /> <label for='input_17_1_3' class='hidden_sub_label screen-reader-text'>Voornaam</label> </span> </div></li><li id="field_17_2" class="gfield optin gfield_contains_required field_sublabel_below field_description_below hidden_label gfield_visibility_visible" data-js-reload="field_17_2"><label class='gfield_label' for='input_17_2' >Email<span class="gfield_required"><span class="gfield_required gfield_required_asterisk">*</span></span></label><div class='ginput_container ginput_container_email'> <input name='input_2' id='input_17_2' type='text' value='' class='medium' placeholder='E-mailadres' aria-required="true" aria-invalid="false" /> </div></li><li id="field_17_3" class="gfield gform_hidden field_sublabel_below field_description_below gfield_visibility_visible" data-js-reload="field_17_3"><div class='ginput_container ginput_container_text'><input name='input_3' id='input_17_3' type='hidden' class='gform_hidden' aria-invalid="false" value='https://www.korthals.nl/nieuws/stijlvolle-bescherming-met-hittebestendige-lak-in-kleur/' /></div></li><li id="field_17_4" class="gfield gform_validation_container field_sublabel_below field_description_below gfield_visibility_visible" data-js-reload="field_17_4"><label class='gfield_label' for='input_17_4' >Comments</label><div class='ginput_container'><input name='input_4' id='input_17_4' type='text' value='' /></div><div class='gfield_description' id='gfield_description_17_4'>Dit veld is bedoeld voor validatiedoeleinden en moet niet worden gewijzigd.</div></li></ul></div> <div class='gform_footer top_label'> <input type="submit" id="gform_submit_button_17" class="gform_button button btn btn-primary" value="DOWNLOAD DIRECT" onclick='if(window["gf_submitting_17"]){return false;} window["gf_submitting_17"]=true; ' onkeypress='if( event.keyCode == 13 ){ if(window["gf_submitting_17"]){return false;} window["gf_submitting_17"]=true; jQuery("#gform_17").trigger("submit",[true]); }'> <input type='hidden' class='gform_hidden' name='is_submit_17' value='1' /> <input type='hidden' class='gform_hidden' name='gform_submit' value='17' /> <input type='hidden' class='gform_hidden' name='gform_unique_id' value='' /> <input type='hidden' class='gform_hidden' name='state_17' value='WyJbXSIsIjJhZmEzYzVhOWIwMGNiYmVjODQ3NDY4MzU3ZTYxY2MyIl0=' /> <input type='hidden' class='gform_hidden' name='gform_target_page_number_17' id='gform_target_page_number_17' value='0' /> <input type='hidden' class='gform_hidden' name='gform_source_page_number_17' id='gform_source_page_number_17' value='1' /> <input type='hidden' name='gform_field_values' value='' /> </div> <p style="display: none !important;"><label>&#916;<textarea name="ak_hp_textarea" cols="45" rows="8" maxlength="100"></textarea></label><input type="hidden" id="ak_js_2" name="ak_js" value="218"/><script>document.getElementById( "ak_js_2" ).setAttribute( "value", ( new Date() ).getTime() );</script></p></form> </div>
[gravityform id="20" title="false" description="false"]
<div class='gf_browser_unknown gform_wrapper gform_legacy_markup_wrapper' id='gform_wrapper_20' style='display:none'><form method='post' enctype='multipart/form-data' id='gform_20' action='/nieuws/stijlvolle-bescherming-met-hittebestendige-lak-in-kleur/' > <div class='gform_body gform-body'><ul id='gform_fields_20' class='gform_fields top_label form_sublabel_below description_below'><li id="field_20_1" class="gfield gfield_contains_required field_sublabel_hidden_label field_description_below hidden_label gfield_visibility_visible" data-js-reload="field_20_1"><label class='gfield_label gfield_label_before_complex' >Name<span class="gfield_required"><span class="gfield_required gfield_required_asterisk">*</span></span></label><div class='ginput_complex ginput_container no_prefix has_first_name no_middle_name no_last_name no_suffix gf_name_has_1 ginput_container_name' id='input_20_1'> <span id='input_20_1_3_container' class='name_first' > <input type='text' name='input_1.3' id='input_20_1_3' value='' aria-required='true' placeholder='First name' /> <label for='input_20_1_3' class='hidden_sub_label screen-reader-text'>First name</label> </span> </div></li><li id="field_20_2" class="gfield gfield_contains_required field_sublabel_below field_description_below hidden_label gfield_visibility_visible" data-js-reload="field_20_2"><label class='gfield_label' for='input_20_2' >Email<span class="gfield_required"><span class="gfield_required gfield_required_asterisk">*</span></span></label><div class='ginput_container ginput_container_email'> <input name='input_2' id='input_20_2' type='text' value='' class='medium' placeholder='E-mail address' aria-required="true" aria-invalid="false" /> </div></li><li id="field_20_3" class="gfield gform_hidden field_sublabel_below field_description_below gfield_visibility_visible" data-js-reload="field_20_3"><div class='ginput_container ginput_container_text'><input name='input_3' id='input_20_3' type='hidden' class='gform_hidden' aria-invalid="false" value='https://www.korthals.nl/nieuws/stijlvolle-bescherming-met-hittebestendige-lak-in-kleur/' /></div></li><li id="field_20_4" class="gfield gform_validation_container field_sublabel_below field_description_below gfield_visibility_visible" data-js-reload="field_20_4"><label class='gfield_label' for='input_20_4' >Email</label><div class='ginput_container'><input name='input_4' id='input_20_4' type='text' value='' /></div><div class='gfield_description' id='gfield_description_20_4'>Dit veld is bedoeld voor validatiedoeleinden en moet niet worden gewijzigd.</div></li></ul></div> <div class='gform_footer top_label'> <input type="submit" id="gform_submit_button_20" class="gform_button button btn btn-primary" value="DOWNLOAD DIRECT" onclick='if(window["gf_submitting_20"]){return false;} window["gf_submitting_20"]=true; ' onkeypress='if( event.keyCode == 13 ){ if(window["gf_submitting_20"]){return false;} window["gf_submitting_20"]=true; jQuery("#gform_20").trigger("submit",[true]); }'> <input type='hidden' class='gform_hidden' name='is_submit_20' value='1' /> <input type='hidden' class='gform_hidden' name='gform_submit' value='20' /> <input type='hidden' class='gform_hidden' name='gform_unique_id' value='' /> <input type='hidden' class='gform_hidden' name='state_20' value='WyJbXSIsIjJhZmEzYzVhOWIwMGNiYmVjODQ3NDY4MzU3ZTYxY2MyIl0=' /> <input type='hidden' class='gform_hidden' name='gform_target_page_number_20' id='gform_target_page_number_20' value='0' /> <input type='hidden' class='gform_hidden' name='gform_source_page_number_20' id='gform_source_page_number_20' value='1' /> <input type='hidden' name='gform_field_values' value='' /> </div> <p style="display: none !important;"><label>&#916;<textarea name="ak_hp_textarea" cols="45" rows="8" maxlength="100"></textarea></label><input type="hidden" id="ak_js_3" name="ak_js" value="61"/><script>document.getElementById( "ak_js_3" ).setAttribute( "value", ( new Date() ).getTime() );</script></p></form> </div>
[gravityform id="17" title="false" description="false"]
<div class='gf_browser_unknown gform_wrapper gform_legacy_markup_wrapper' id='gform_wrapper_17' ><form method='post' enctype='multipart/form-data' id='gform_17' action='/nieuws/stijlvolle-bescherming-met-hittebestendige-lak-in-kleur/' > <div class='gform_body gform-body'><ul id='gform_fields_17' class='gform_fields top_label form_sublabel_below description_below'><li id="field_17_1" class="gfield medium gfield_contains_required field_sublabel_hidden_label field_description_below hidden_label gfield_visibility_visible" data-js-reload="field_17_1"><label class='gfield_label gfield_label_before_complex' >Naam<span class="gfield_required"><span class="gfield_required gfield_required_asterisk">*</span></span></label><div class='ginput_complex ginput_container no_prefix has_first_name no_middle_name no_last_name no_suffix gf_name_has_1 ginput_container_name' id='input_17_1'> <span id='input_17_1_3_container' class='name_first' > <input type='text' name='input_1.3' id='input_17_1_3' value='' aria-required='true' placeholder='Voornaam' /> <label for='input_17_1_3' class='hidden_sub_label screen-reader-text'>Voornaam</label> </span> </div></li><li id="field_17_2" class="gfield optin gfield_contains_required field_sublabel_below field_description_below hidden_label gfield_visibility_visible" data-js-reload="field_17_2"><label class='gfield_label' for='input_17_2' >Email<span class="gfield_required"><span class="gfield_required gfield_required_asterisk">*</span></span></label><div class='ginput_container ginput_container_email'> <input name='input_2' id='input_17_2' type='text' value='' class='medium' placeholder='E-mailadres' aria-required="true" aria-invalid="false" /> </div></li><li id="field_17_3" class="gfield gform_hidden field_sublabel_below field_description_below gfield_visibility_visible" data-js-reload="field_17_3"><div class='ginput_container ginput_container_text'><input name='input_3' id='input_17_3' type='hidden' class='gform_hidden' aria-invalid="false" value='https://www.korthals.nl/nieuws/stijlvolle-bescherming-met-hittebestendige-lak-in-kleur/' /></div></li><li id="field_17_4" class="gfield gform_validation_container field_sublabel_below field_description_below gfield_visibility_visible" data-js-reload="field_17_4"><label class='gfield_label' for='input_17_4' >Name</label><div class='ginput_container'><input name='input_4' id='input_17_4' type='text' value='' /></div><div class='gfield_description' id='gfield_description_17_4'>Dit veld is bedoeld voor validatiedoeleinden en moet niet worden gewijzigd.</div></li></ul></div> <div class='gform_footer top_label'> <input type="submit" id="gform_submit_button_17" class="gform_button button btn btn-primary" value="DOWNLOAD DIRECT" onclick='if(window["gf_submitting_17"]){return false;} window["gf_submitting_17"]=true; ' onkeypress='if( event.keyCode == 13 ){ if(window["gf_submitting_17"]){return false;} window["gf_submitting_17"]=true; jQuery("#gform_17").trigger("submit",[true]); }'> <input type='hidden' class='gform_hidden' name='is_submit_17' value='1' /> <input type='hidden' class='gform_hidden' name='gform_submit' value='17' /> <input type='hidden' class='gform_hidden' name='gform_unique_id' value='' /> <input type='hidden' class='gform_hidden' name='state_17' value='WyJbXSIsIjJhZmEzYzVhOWIwMGNiYmVjODQ3NDY4MzU3ZTYxY2MyIl0=' /> <input type='hidden' class='gform_hidden' name='gform_target_page_number_17' id='gform_target_page_number_17' value='0' /> <input type='hidden' class='gform_hidden' name='gform_source_page_number_17' id='gform_source_page_number_17' value='1' /> <input type='hidden' name='gform_field_values' value='' /> </div> <p style="display: none !important;"><label>&#916;<textarea name="ak_hp_textarea" cols="45" rows="8" maxlength="100"></textarea></label><input type="hidden" id="ak_js_4" name="ak_js" value="238"/><script>document.getElementById( "ak_js_4" ).setAttribute( "value", ( new Date() ).getTime() );</script></p></form> </div>
[gravityform id="20" title="false" description="false"]
<div class='gf_browser_unknown gform_wrapper gform_legacy_markup_wrapper' id='gform_wrapper_20' style='display:none'><form method='post' enctype='multipart/form-data' id='gform_20' action='/nieuws/stijlvolle-bescherming-met-hittebestendige-lak-in-kleur/' > <div class='gform_body gform-body'><ul id='gform_fields_20' class='gform_fields top_label form_sublabel_below description_below'><li id="field_20_1" class="gfield gfield_contains_required field_sublabel_hidden_label field_description_below hidden_label gfield_visibility_visible" data-js-reload="field_20_1"><label class='gfield_label gfield_label_before_complex' >Name<span class="gfield_required"><span class="gfield_required gfield_required_asterisk">*</span></span></label><div class='ginput_complex ginput_container no_prefix has_first_name no_middle_name no_last_name no_suffix gf_name_has_1 ginput_container_name' id='input_20_1'> <span id='input_20_1_3_container' class='name_first' > <input type='text' name='input_1.3' id='input_20_1_3' value='' aria-required='true' placeholder='First name' /> <label for='input_20_1_3' class='hidden_sub_label screen-reader-text'>First name</label> </span> </div></li><li id="field_20_2" class="gfield gfield_contains_required field_sublabel_below field_description_below hidden_label gfield_visibility_visible" data-js-reload="field_20_2"><label class='gfield_label' for='input_20_2' >Email<span class="gfield_required"><span class="gfield_required gfield_required_asterisk">*</span></span></label><div class='ginput_container ginput_container_email'> <input name='input_2' id='input_20_2' type='text' value='' class='medium' placeholder='E-mail address' aria-required="true" aria-invalid="false" /> </div></li><li id="field_20_3" class="gfield gform_hidden field_sublabel_below field_description_below gfield_visibility_visible" data-js-reload="field_20_3"><div class='ginput_container ginput_container_text'><input name='input_3' id='input_20_3' type='hidden' class='gform_hidden' aria-invalid="false" value='https://www.korthals.nl/nieuws/stijlvolle-bescherming-met-hittebestendige-lak-in-kleur/' /></div></li><li id="field_20_4" class="gfield gform_validation_container field_sublabel_below field_description_below gfield_visibility_visible" data-js-reload="field_20_4"><label class='gfield_label' for='input_20_4' >Phone</label><div class='ginput_container'><input name='input_4' id='input_20_4' type='text' value='' /></div><div class='gfield_description' id='gfield_description_20_4'>Dit veld is bedoeld voor validatiedoeleinden en moet niet worden gewijzigd.</div></li></ul></div> <div class='gform_footer top_label'> <input type="submit" id="gform_submit_button_20" class="gform_button button btn btn-primary" value="DOWNLOAD DIRECT" onclick='if(window["gf_submitting_20"]){return false;} window["gf_submitting_20"]=true; ' onkeypress='if( event.keyCode == 13 ){ if(window["gf_submitting_20"]){return false;} window["gf_submitting_20"]=true; jQuery("#gform_20").trigger("submit",[true]); }'> <input type='hidden' class='gform_hidden' name='is_submit_20' value='1' /> <input type='hidden' class='gform_hidden' name='gform_submit' value='20' /> <input type='hidden' class='gform_hidden' name='gform_unique_id' value='' /> <input type='hidden' class='gform_hidden' name='state_20' value='WyJbXSIsIjJhZmEzYzVhOWIwMGNiYmVjODQ3NDY4MzU3ZTYxY2MyIl0=' /> <input type='hidden' class='gform_hidden' name='gform_target_page_number_20' id='gform_target_page_number_20' value='0' /> <input type='hidden' class='gform_hidden' name='gform_source_page_number_20' id='gform_source_page_number_20' value='1' /> <input type='hidden' name='gform_field_values' value='' /> </div> <p style="display: none !important;"><label>&#916;<textarea name="ak_hp_textarea" cols="45" rows="8" maxlength="100"></textarea></label><input type="hidden" id="ak_js_5" name="ak_js" value="160"/><script>document.getElementById( "ak_js_5" ).setAttribute( "value", ( new Date() ).getTime() );</script></p></form> </div>
[gravityform id="20" title="false" description="false"]
<div class='gf_browser_unknown gform_wrapper gform_legacy_markup_wrapper' id='gform_wrapper_20' style='display:none'><form method='post' enctype='multipart/form-data' id='gform_20' action='/nieuws/stijlvolle-bescherming-met-hittebestendige-lak-in-kleur/' > <div class='gform_body gform-body'><ul id='gform_fields_20' class='gform_fields top_label form_sublabel_below description_below'><li id="field_20_1" class="gfield gfield_contains_required field_sublabel_hidden_label field_description_below hidden_label gfield_visibility_visible" data-js-reload="field_20_1"><label class='gfield_label gfield_label_before_complex' >Name<span class="gfield_required"><span class="gfield_required gfield_required_asterisk">*</span></span></label><div class='ginput_complex ginput_container no_prefix has_first_name no_middle_name no_last_name no_suffix gf_name_has_1 ginput_container_name' id='input_20_1'> <span id='input_20_1_3_container' class='name_first' > <input type='text' name='input_1.3' id='input_20_1_3' value='' aria-required='true' placeholder='First name' /> <label for='input_20_1_3' class='hidden_sub_label screen-reader-text'>First name</label> </span> </div></li><li id="field_20_2" class="gfield gfield_contains_required field_sublabel_below field_description_below hidden_label gfield_visibility_visible" data-js-reload="field_20_2"><label class='gfield_label' for='input_20_2' >Email<span class="gfield_required"><span class="gfield_required gfield_required_asterisk">*</span></span></label><div class='ginput_container ginput_container_email'> <input name='input_2' id='input_20_2' type='text' value='' class='medium' placeholder='E-mail address' aria-required="true" aria-invalid="false" /> </div></li><li id="field_20_3" class="gfield gform_hidden field_sublabel_below field_description_below gfield_visibility_visible" data-js-reload="field_20_3"><div class='ginput_container ginput_container_text'><input name='input_3' id='input_20_3' type='hidden' class='gform_hidden' aria-invalid="false" value='https://www.korthals.nl/nieuws/stijlvolle-bescherming-met-hittebestendige-lak-in-kleur/' /></div></li><li id="field_20_4" class="gfield gform_validation_container field_sublabel_below field_description_below gfield_visibility_visible" data-js-reload="field_20_4"><label class='gfield_label' for='input_20_4' >Name</label><div class='ginput_container'><input name='input_4' id='input_20_4' type='text' value='' /></div><div class='gfield_description' id='gfield_description_20_4'>Dit veld is bedoeld voor validatiedoeleinden en moet niet worden gewijzigd.</div></li></ul></div> <div class='gform_footer top_label'> <input type="submit" id="gform_submit_button_20" class="gform_button button btn btn-primary" value="DOWNLOAD DIRECT" onclick='if(window["gf_submitting_20"]){return false;} window["gf_submitting_20"]=true; ' onkeypress='if( event.keyCode == 13 ){ if(window["gf_submitting_20"]){return false;} window["gf_submitting_20"]=true; jQuery("#gform_20").trigger("submit",[true]); }'> <input type='hidden' class='gform_hidden' name='is_submit_20' value='1' /> <input type='hidden' class='gform_hidden' name='gform_submit' value='20' /> <input type='hidden' class='gform_hidden' name='gform_unique_id' value='' /> <input type='hidden' class='gform_hidden' name='state_20' value='WyJbXSIsIjJhZmEzYzVhOWIwMGNiYmVjODQ3NDY4MzU3ZTYxY2MyIl0=' /> <input type='hidden' class='gform_hidden' name='gform_target_page_number_20' id='gform_target_page_number_20' value='0' /> <input type='hidden' class='gform_hidden' name='gform_source_page_number_20' id='gform_source_page_number_20' value='1' /> <input type='hidden' name='gform_field_values' value='' /> </div> <p style="display: none !important;"><label>&#916;<textarea name="ak_hp_textarea" cols="45" rows="8" maxlength="100"></textarea></label><input type="hidden" id="ak_js_6" name="ak_js" value="32"/><script>document.getElementById( "ak_js_6" ).setAttribute( "value", ( new Date() ).getTime() );</script></p></form> </div>
[gravityform id="17" title="false" description="false"]
<div class='gf_browser_unknown gform_wrapper gform_legacy_markup_wrapper' id='gform_wrapper_17' ><form method='post' enctype='multipart/form-data' id='gform_17' action='/nieuws/stijlvolle-bescherming-met-hittebestendige-lak-in-kleur/' > <div class='gform_body gform-body'><ul id='gform_fields_17' class='gform_fields top_label form_sublabel_below description_below'><li id="field_17_1" class="gfield medium gfield_contains_required field_sublabel_hidden_label field_description_below hidden_label gfield_visibility_visible" data-js-reload="field_17_1"><label class='gfield_label gfield_label_before_complex' >Naam<span class="gfield_required"><span class="gfield_required gfield_required_asterisk">*</span></span></label><div class='ginput_complex ginput_container no_prefix has_first_name no_middle_name no_last_name no_suffix gf_name_has_1 ginput_container_name' id='input_17_1'> <span id='input_17_1_3_container' class='name_first' > <input type='text' name='input_1.3' id='input_17_1_3' value='' aria-required='true' placeholder='Voornaam' /> <label for='input_17_1_3' class='hidden_sub_label screen-reader-text'>Voornaam</label> </span> </div></li><li id="field_17_2" class="gfield optin gfield_contains_required field_sublabel_below field_description_below hidden_label gfield_visibility_visible" data-js-reload="field_17_2"><label class='gfield_label' for='input_17_2' >Email<span class="gfield_required"><span class="gfield_required gfield_required_asterisk">*</span></span></label><div class='ginput_container ginput_container_email'> <input name='input_2' id='input_17_2' type='text' value='' class='medium' placeholder='E-mailadres' aria-required="true" aria-invalid="false" /> </div></li><li id="field_17_3" class="gfield gform_hidden field_sublabel_below field_description_below gfield_visibility_visible" data-js-reload="field_17_3"><div class='ginput_container ginput_container_text'><input name='input_3' id='input_17_3' type='hidden' class='gform_hidden' aria-invalid="false" value='https://www.korthals.nl/nieuws/stijlvolle-bescherming-met-hittebestendige-lak-in-kleur/' /></div></li><li id="field_17_4" class="gfield gform_validation_container field_sublabel_below field_description_below gfield_visibility_visible" data-js-reload="field_17_4"><label class='gfield_label' for='input_17_4' >Phone</label><div class='ginput_container'><input name='input_4' id='input_17_4' type='text' value='' /></div><div class='gfield_description' id='gfield_description_17_4'>Dit veld is bedoeld voor validatiedoeleinden en moet niet worden gewijzigd.</div></li></ul></div> <div class='gform_footer top_label'> <input type="submit" id="gform_submit_button_17" class="gform_button button btn btn-primary" value="DOWNLOAD DIRECT" onclick='if(window["gf_submitting_17"]){return false;} window["gf_submitting_17"]=true; ' onkeypress='if( event.keyCode == 13 ){ if(window["gf_submitting_17"]){return false;} window["gf_submitting_17"]=true; jQuery("#gform_17").trigger("submit",[true]); }'> <input type='hidden' class='gform_hidden' name='is_submit_17' value='1' /> <input type='hidden' class='gform_hidden' name='gform_submit' value='17' /> <input type='hidden' class='gform_hidden' name='gform_unique_id' value='' /> <input type='hidden' class='gform_hidden' name='state_17' value='WyJbXSIsIjJhZmEzYzVhOWIwMGNiYmVjODQ3NDY4MzU3ZTYxY2MyIl0=' /> <input type='hidden' class='gform_hidden' name='gform_target_page_number_17' id='gform_target_page_number_17' value='0' /> <input type='hidden' class='gform_hidden' name='gform_source_page_number_17' id='gform_source_page_number_17' value='1' /> <input type='hidden' name='gform_field_values' value='' /> </div> <p style="display: none !important;"><label>&#916;<textarea name="ak_hp_textarea" cols="45" rows="8" maxlength="100"></textarea></label><input type="hidden" id="ak_js_7" name="ak_js" value="66"/><script>document.getElementById( "ak_js_7" ).setAttribute( "value", ( new Date() ).getTime() );</script></p></form> </div>
[gravityform id="17" title="false" description="false"]
<div class='gf_browser_unknown gform_wrapper gform_legacy_markup_wrapper' id='gform_wrapper_17' ><form method='post' enctype='multipart/form-data' id='gform_17' action='/nieuws/stijlvolle-bescherming-met-hittebestendige-lak-in-kleur/' > <div class='gform_body gform-body'><ul id='gform_fields_17' class='gform_fields top_label form_sublabel_below description_below'><li id="field_17_1" class="gfield medium gfield_contains_required field_sublabel_hidden_label field_description_below hidden_label gfield_visibility_visible" data-js-reload="field_17_1"><label class='gfield_label gfield_label_before_complex' >Naam<span class="gfield_required"><span class="gfield_required gfield_required_asterisk">*</span></span></label><div class='ginput_complex ginput_container no_prefix has_first_name no_middle_name no_last_name no_suffix gf_name_has_1 ginput_container_name' id='input_17_1'> <span id='input_17_1_3_container' class='name_first' > <input type='text' name='input_1.3' id='input_17_1_3' value='' aria-required='true' placeholder='Voornaam' /> <label for='input_17_1_3' class='hidden_sub_label screen-reader-text'>Voornaam</label> </span> </div></li><li id="field_17_2" class="gfield optin gfield_contains_required field_sublabel_below field_description_below hidden_label gfield_visibility_visible" data-js-reload="field_17_2"><label class='gfield_label' for='input_17_2' >Email<span class="gfield_required"><span class="gfield_required gfield_required_asterisk">*</span></span></label><div class='ginput_container ginput_container_email'> <input name='input_2' id='input_17_2' type='text' value='' class='medium' placeholder='E-mailadres' aria-required="true" aria-invalid="false" /> </div></li><li id="field_17_3" class="gfield gform_hidden field_sublabel_below field_description_below gfield_visibility_visible" data-js-reload="field_17_3"><div class='ginput_container ginput_container_text'><input name='input_3' id='input_17_3' type='hidden' class='gform_hidden' aria-invalid="false" value='https://www.korthals.nl/nieuws/stijlvolle-bescherming-met-hittebestendige-lak-in-kleur/' /></div></li><li id="field_17_4" class="gfield gform_validation_container field_sublabel_below field_description_below gfield_visibility_visible" data-js-reload="field_17_4"><label class='gfield_label' for='input_17_4' >Name</label><div class='ginput_container'><input name='input_4' id='input_17_4' type='text' value='' /></div><div class='gfield_description' id='gfield_description_17_4'>Dit veld is bedoeld voor validatiedoeleinden en moet niet worden gewijzigd.</div></li></ul></div> <div class='gform_footer top_label'> <input type="submit" id="gform_submit_button_17" class="gform_button button btn btn-primary" value="DOWNLOAD DIRECT" onclick='if(window["gf_submitting_17"]){return false;} window["gf_submitting_17"]=true; ' onkeypress='if( event.keyCode == 13 ){ if(window["gf_submitting_17"]){return false;} window["gf_submitting_17"]=true; jQuery("#gform_17").trigger("submit",[true]); }'> <input type='hidden' class='gform_hidden' name='is_submit_17' value='1' /> <input type='hidden' class='gform_hidden' name='gform_submit' value='17' /> <input type='hidden' class='gform_hidden' name='gform_unique_id' value='' /> <input type='hidden' class='gform_hidden' name='state_17' value='WyJbXSIsIjJhZmEzYzVhOWIwMGNiYmVjODQ3NDY4MzU3ZTYxY2MyIl0=' /> <input type='hidden' class='gform_hidden' name='gform_target_page_number_17' id='gform_target_page_number_17' value='0' /> <input type='hidden' class='gform_hidden' name='gform_source_page_number_17' id='gform_source_page_number_17' value='1' /> <input type='hidden' name='gform_field_values' value='' /> </div> <p style="display: none !important;"><label>&#916;<textarea name="ak_hp_textarea" cols="45" rows="8" maxlength="100"></textarea></label><input type="hidden" id="ak_js_8" name="ak_js" value="7"/><script>document.getElementById( "ak_js_8" ).setAttribute( "value", ( new Date() ).getTime() );</script></p></form> </div>
[gravityform id="17" title="false" description="false"]
<div class='gf_browser_unknown gform_wrapper gform_legacy_markup_wrapper' id='gform_wrapper_17' ><form method='post' enctype='multipart/form-data' id='gform_17' action='/nieuws/stijlvolle-bescherming-met-hittebestendige-lak-in-kleur/' > <div class='gform_body gform-body'><ul id='gform_fields_17' class='gform_fields top_label form_sublabel_below description_below'><li id="field_17_1" class="gfield medium gfield_contains_required field_sublabel_hidden_label field_description_below hidden_label gfield_visibility_visible" data-js-reload="field_17_1"><label class='gfield_label gfield_label_before_complex' >Naam<span class="gfield_required"><span class="gfield_required gfield_required_asterisk">*</span></span></label><div class='ginput_complex ginput_container no_prefix has_first_name no_middle_name no_last_name no_suffix gf_name_has_1 ginput_container_name' id='input_17_1'> <span id='input_17_1_3_container' class='name_first' > <input type='text' name='input_1.3' id='input_17_1_3' value='' aria-required='true' placeholder='Voornaam' /> <label for='input_17_1_3' class='hidden_sub_label screen-reader-text'>Voornaam</label> </span> </div></li><li id="field_17_2" class="gfield optin gfield_contains_required field_sublabel_below field_description_below hidden_label gfield_visibility_visible" data-js-reload="field_17_2"><label class='gfield_label' for='input_17_2' >Email<span class="gfield_required"><span class="gfield_required gfield_required_asterisk">*</span></span></label><div class='ginput_container ginput_container_email'> <input name='input_2' id='input_17_2' type='text' value='' class='medium' placeholder='E-mailadres' aria-required="true" aria-invalid="false" /> </div></li><li id="field_17_3" class="gfield gform_hidden field_sublabel_below field_description_below gfield_visibility_visible" data-js-reload="field_17_3"><div class='ginput_container ginput_container_text'><input name='input_3' id='input_17_3' type='hidden' class='gform_hidden' aria-invalid="false" value='https://www.korthals.nl/nieuws/stijlvolle-bescherming-met-hittebestendige-lak-in-kleur/' /></div></li><li id="field_17_4" class="gfield gform_validation_container field_sublabel_below field_description_below gfield_visibility_visible" data-js-reload="field_17_4"><label class='gfield_label' for='input_17_4' >Email</label><div class='ginput_container'><input name='input_4' id='input_17_4' type='text' value='' /></div><div class='gfield_description' id='gfield_description_17_4'>Dit veld is bedoeld voor validatiedoeleinden en moet niet worden gewijzigd.</div></li></ul></div> <div class='gform_footer top_label'> <input type="submit" id="gform_submit_button_17" class="gform_button button btn btn-primary" value="DOWNLOAD DIRECT" onclick='if(window["gf_submitting_17"]){return false;} window["gf_submitting_17"]=true; ' onkeypress='if( event.keyCode == 13 ){ if(window["gf_submitting_17"]){return false;} window["gf_submitting_17"]=true; jQuery("#gform_17").trigger("submit",[true]); }'> <input type='hidden' class='gform_hidden' name='is_submit_17' value='1' /> <input type='hidden' class='gform_hidden' name='gform_submit' value='17' /> <input type='hidden' class='gform_hidden' name='gform_unique_id' value='' /> <input type='hidden' class='gform_hidden' name='state_17' value='WyJbXSIsIjJhZmEzYzVhOWIwMGNiYmVjODQ3NDY4MzU3ZTYxY2MyIl0=' /> <input type='hidden' class='gform_hidden' name='gform_target_page_number_17' id='gform_target_page_number_17' value='0' /> <input type='hidden' class='gform_hidden' name='gform_source_page_number_17' id='gform_source_page_number_17' value='1' /> <input type='hidden' name='gform_field_values' value='' /> </div> <p style="display: none !important;"><label>&#916;<textarea name="ak_hp_textarea" cols="45" rows="8" maxlength="100"></textarea></label><input type="hidden" id="ak_js_9" name="ak_js" value="30"/><script>document.getElementById( "ak_js_9" ).setAttribute( "value", ( new Date() ).getTime() );</script></p></form> </div>
[gravityform id="17" title="false" description="false"]
<div class='gf_browser_unknown gform_wrapper gform_legacy_markup_wrapper' id='gform_wrapper_17' ><form method='post' enctype='multipart/form-data' id='gform_17' action='/nieuws/stijlvolle-bescherming-met-hittebestendige-lak-in-kleur/' > <div class='gform_body gform-body'><ul id='gform_fields_17' class='gform_fields top_label form_sublabel_below description_below'><li id="field_17_1" class="gfield medium gfield_contains_required field_sublabel_hidden_label field_description_below hidden_label gfield_visibility_visible" data-js-reload="field_17_1"><label class='gfield_label gfield_label_before_complex' >Naam<span class="gfield_required"><span class="gfield_required gfield_required_asterisk">*</span></span></label><div class='ginput_complex ginput_container no_prefix has_first_name no_middle_name no_last_name no_suffix gf_name_has_1 ginput_container_name' id='input_17_1'> <span id='input_17_1_3_container' class='name_first' > <input type='text' name='input_1.3' id='input_17_1_3' value='' aria-required='true' placeholder='Voornaam' /> <label for='input_17_1_3' class='hidden_sub_label screen-reader-text'>Voornaam</label> </span> </div></li><li id="field_17_2" class="gfield optin gfield_contains_required field_sublabel_below field_description_below hidden_label gfield_visibility_visible" data-js-reload="field_17_2"><label class='gfield_label' for='input_17_2' >Email<span class="gfield_required"><span class="gfield_required gfield_required_asterisk">*</span></span></label><div class='ginput_container ginput_container_email'> <input name='input_2' id='input_17_2' type='text' value='' class='medium' placeholder='E-mailadres' aria-required="true" aria-invalid="false" /> </div></li><li id="field_17_3" class="gfield gform_hidden field_sublabel_below field_description_below gfield_visibility_visible" data-js-reload="field_17_3"><div class='ginput_container ginput_container_text'><input name='input_3' id='input_17_3' type='hidden' class='gform_hidden' aria-invalid="false" value='https://www.korthals.nl/nieuws/stijlvolle-bescherming-met-hittebestendige-lak-in-kleur/' /></div></li><li id="field_17_4" class="gfield gform_validation_container field_sublabel_below field_description_below gfield_visibility_visible" data-js-reload="field_17_4"><label class='gfield_label' for='input_17_4' >Phone</label><div class='ginput_container'><input name='input_4' id='input_17_4' type='text' value='' /></div><div class='gfield_description' id='gfield_description_17_4'>Dit veld is bedoeld voor validatiedoeleinden en moet niet worden gewijzigd.</div></li></ul></div> <div class='gform_footer top_label'> <input type="submit" id="gform_submit_button_17" class="gform_button button btn btn-primary" value="DOWNLOAD DIRECT" onclick='if(window["gf_submitting_17"]){return false;} window["gf_submitting_17"]=true; ' onkeypress='if( event.keyCode == 13 ){ if(window["gf_submitting_17"]){return false;} window["gf_submitting_17"]=true; jQuery("#gform_17").trigger("submit",[true]); }'> <input type='hidden' class='gform_hidden' name='is_submit_17' value='1' /> <input type='hidden' class='gform_hidden' name='gform_submit' value='17' /> <input type='hidden' class='gform_hidden' name='gform_unique_id' value='' /> <input type='hidden' class='gform_hidden' name='state_17' value='WyJbXSIsIjJhZmEzYzVhOWIwMGNiYmVjODQ3NDY4MzU3ZTYxY2MyIl0=' /> <input type='hidden' class='gform_hidden' name='gform_target_page_number_17' id='gform_target_page_number_17' value='0' /> <input type='hidden' class='gform_hidden' name='gform_source_page_number_17' id='gform_source_page_number_17' value='1' /> <input type='hidden' name='gform_field_values' value='' /> </div> <p style="display: none !important;"><label>&#916;<textarea name="ak_hp_textarea" cols="45" rows="8" maxlength="100"></textarea></label><input type="hidden" id="ak_js_10" name="ak_js" value="71"/><script>document.getElementById( "ak_js_10" ).setAttribute( "value", ( new Date() ).getTime() );</script></p></form> </div>
[gravityform id="16" title="false" description="false"]
<div class='gf_browser_unknown gform_wrapper vinduwvloer_wrapper gform_legacy_markup_wrapper' id='gform_wrapper_16' ><form method='post' enctype='multipart/form-data' id='gform_16' class='vinduwvloer gform_legacy_markup' action='/nieuws/stijlvolle-bescherming-met-hittebestendige-lak-in-kleur/' > <div class='gform_body gform-body'><ul id='gform_fields_16' class='gform_fields top_label form_sublabel_below description_below'><li id="field_16_1" class="gfield optin gfield_contains_required field_sublabel_hidden_label field_description_below hidden_label gfield_visibility_visible" data-js-reload="field_16_1"><label class='gfield_label gfield_label_before_complex' >Naam<span class="gfield_required"><span class="gfield_required gfield_required_asterisk">*</span></span></label><div class='ginput_complex ginput_container no_prefix has_first_name no_middle_name no_last_name no_suffix gf_name_has_1 ginput_container_name' id='input_16_1'> <span id='input_16_1_3_container' class='name_first' > <input type='text' name='input_1.3' id='input_16_1_3' value='' aria-required='true' placeholder='Voornaam' /> <label for='input_16_1_3' class='hidden_sub_label screen-reader-text'>Voornaam</label> </span> </div></li><li id="field_16_2" class="gfield optin gfield_contains_required field_sublabel_below field_description_below hidden_label gfield_visibility_visible" data-js-reload="field_16_2"><label class='gfield_label' for='input_16_2' >Email<span class="gfield_required"><span class="gfield_required gfield_required_asterisk">*</span></span></label><div class='ginput_container ginput_container_email'> <input name='input_2' id='input_16_2' type='text' value='' class='medium' placeholder='E-mail adres' aria-required="true" aria-invalid="false" /> </div></li><li id="field_16_3" class="gfield gform_hidden field_sublabel_below field_description_below gfield_visibility_visible" data-js-reload="field_16_3"><div class='ginput_container ginput_container_text'><input name='input_3' id='input_16_3' type='hidden' class='gform_hidden' aria-invalid="false" value='https://www.korthals.nl/nieuws/stijlvolle-bescherming-met-hittebestendige-lak-in-kleur/' /></div></li><li id="field_16_4" class="gfield gform_validation_container field_sublabel_below field_description_below gfield_visibility_visible" data-js-reload="field_16_4"><label class='gfield_label' for='input_16_4' >Comments</label><div class='ginput_container'><input name='input_4' id='input_16_4' type='text' value='' /></div><div class='gfield_description' id='gfield_description_16_4'>Dit veld is bedoeld voor validatiedoeleinden en moet niet worden gewijzigd.</div></li></ul></div> <div class='gform_footer top_label'> <input type="submit" id="gform_submit_button_16" class="gform_button button btn btn-primary" value="DOWNLOAD DIRECT" onclick='if(window["gf_submitting_16"]){return false;} window["gf_submitting_16"]=true; ' onkeypress='if( event.keyCode == 13 ){ if(window["gf_submitting_16"]){return false;} window["gf_submitting_16"]=true; jQuery("#gform_16").trigger("submit",[true]); }'> <input type='hidden' class='gform_hidden' name='is_submit_16' value='1' /> <input type='hidden' class='gform_hidden' name='gform_submit' value='16' /> <input type='hidden' class='gform_hidden' name='gform_unique_id' value='' /> <input type='hidden' class='gform_hidden' name='state_16' value='WyJbXSIsIjJhZmEzYzVhOWIwMGNiYmVjODQ3NDY4MzU3ZTYxY2MyIl0=' /> <input type='hidden' class='gform_hidden' name='gform_target_page_number_16' id='gform_target_page_number_16' value='0' /> <input type='hidden' class='gform_hidden' name='gform_source_page_number_16' id='gform_source_page_number_16' value='1' /> <input type='hidden' name='gform_field_values' value='' /> </div> <p style="display: none !important;"><label>&#916;<textarea name="ak_hp_textarea" cols="45" rows="8" maxlength="100"></textarea></label><input type="hidden" id="ak_js_11" name="ak_js" value="17"/><script>document.getElementById( "ak_js_11" ).setAttribute( "value", ( new Date() ).getTime() );</script></p></form> </div>
[gravityform id="15" title="false" description="false"]
<div class='gf_browser_unknown gform_wrapper vinduwvloer_wrapper gform_legacy_markup_wrapper' id='gform_wrapper_15' ><form method='post' enctype='multipart/form-data' id='gform_15' class='vinduwvloer gform_legacy_markup' action='/nieuws/stijlvolle-bescherming-met-hittebestendige-lak-in-kleur/' > <div class='gform_body gform-body'><ul id='gform_fields_15' class='gform_fields top_label form_sublabel_below description_below'><li id="field_15_1" class="gfield optin gfield_contains_required field_sublabel_hidden_label field_description_below hidden_label gfield_visibility_visible" data-js-reload="field_15_1"><label class='gfield_label gfield_label_before_complex' >Naam<span class="gfield_required"><span class="gfield_required gfield_required_asterisk">*</span></span></label><div class='ginput_complex ginput_container no_prefix has_first_name no_middle_name no_last_name no_suffix gf_name_has_1 ginput_container_name' id='input_15_1'> <span id='input_15_1_3_container' class='name_first' > <input type='text' name='input_1.3' id='input_15_1_3' value='' aria-required='true' placeholder='First name' /> <label for='input_15_1_3' class='hidden_sub_label screen-reader-text'>First name</label> </span> </div></li><li id="field_15_2" class="gfield optin gfield_contains_required field_sublabel_below field_description_below hidden_label gfield_visibility_visible" data-js-reload="field_15_2"><label class='gfield_label' for='input_15_2' >Email<span class="gfield_required"><span class="gfield_required gfield_required_asterisk">*</span></span></label><div class='ginput_container ginput_container_email'> <input name='input_2' id='input_15_2' type='text' value='' class='medium' placeholder='Email address' aria-required="true" aria-invalid="false" /> </div></li><li id="field_15_4" class="gfield gform_hidden field_sublabel_below field_description_below gfield_visibility_visible" data-js-reload="field_15_4"><div class='ginput_container ginput_container_text'><input name='input_4' id='input_15_4' type='hidden' class='gform_hidden' aria-invalid="false" value='https://www.korthals.nl/nieuws/stijlvolle-bescherming-met-hittebestendige-lak-in-kleur/' /></div></li><li id="field_15_5" class="gfield gform_validation_container field_sublabel_below field_description_below gfield_visibility_visible" data-js-reload="field_15_5"><label class='gfield_label' for='input_15_5' >Email</label><div class='ginput_container'><input name='input_5' id='input_15_5' type='text' value='' /></div><div class='gfield_description' id='gfield_description_15_5'>Dit veld is bedoeld voor validatiedoeleinden en moet niet worden gewijzigd.</div></li></ul></div> <div class='gform_footer top_label'> <input type="submit" id="gform_submit_button_15" class="gform_button button btn btn-primary" value="DOWNLOAD DIRECT" onclick='if(window["gf_submitting_15"]){return false;} window["gf_submitting_15"]=true; ' onkeypress='if( event.keyCode == 13 ){ if(window["gf_submitting_15"]){return false;} window["gf_submitting_15"]=true; jQuery("#gform_15").trigger("submit",[true]); }'> <input type='hidden' class='gform_hidden' name='is_submit_15' value='1' /> <input type='hidden' class='gform_hidden' name='gform_submit' value='15' /> <input type='hidden' class='gform_hidden' name='gform_unique_id' value='' /> <input type='hidden' class='gform_hidden' name='state_15' value='WyJbXSIsIjJhZmEzYzVhOWIwMGNiYmVjODQ3NDY4MzU3ZTYxY2MyIl0=' /> <input type='hidden' class='gform_hidden' name='gform_target_page_number_15' id='gform_target_page_number_15' value='0' /> <input type='hidden' class='gform_hidden' name='gform_source_page_number_15' id='gform_source_page_number_15' value='1' /> <input type='hidden' name='gform_field_values' value='' /> </div> <p style="display: none !important;"><label>&#916;<textarea name="ak_hp_textarea" cols="45" rows="8" maxlength="100"></textarea></label><input type="hidden" id="ak_js_12" name="ak_js" value="8"/><script>document.getElementById( "ak_js_12" ).setAttribute( "value", ( new Date() ).getTime() );</script></p></form> </div>