Waterborne stain
Reliable quality
Craftmanship since 1878
Short delivery time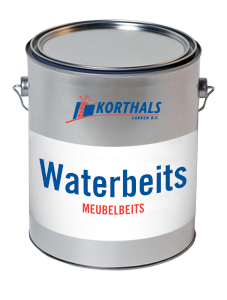 Waterborne stain
Soens's waterborne stains are based on water-soluble dyes. Soens's waterborne stains are commonly used on beech, pine and cherry wood. This stain is used less widely on oak wood, because of the release of wood fibres. Drying takes several hours before one can paint on it.
Download product information
Reliable quality
At Korthals you're assured of reliable and lasting quality. The formulation of our products always remains constant!
Craftmanship since 1878
For many years, Korthals has been a specialist in the production and development of industrial lacquers.
Short delivery time
Regardless color, structure or composition, at Korthals fast delivery is always part of the deal.
What's the best stain for your needs?
Are you not entirely sure which stain suits your needs best? Waterborne stain is most often used in circumstances in which the following properties are of importance:
Available in multiple colors
Soens's waterborne stains are available in several colors. Don't hesitate to ask us about the possibilities!
"
We like to think in terms of solutions, just as Korthals does. If necessary, Korthals moves beyond its own products and examines the whole coating process in order to find the right solution.
"
Supplier of storage solutions
"
Therm-O-Signal is the best temperature indicating paint I know. Easy to apply, for quick and easy maintenance.
"
Coater of refineries
[gravityform id="17" title="false" description="false"]
<script type="text/javascript">var gform;gform||(document.addEventListener("gform_main_scripts_loaded",function(){gform.scriptsLoaded=!0}),window.addEventListener("DOMContentLoaded",function(){gform.domLoaded=!0}),gform={domLoaded:!1,scriptsLoaded:!1,initializeOnLoaded:function(o){gform.domLoaded&&gform.scriptsLoaded?o():!gform.domLoaded&&gform.scriptsLoaded?window.addEventListener("DOMContentLoaded",o):document.addEventListener("gform_main_scripts_loaded",o)},hooks:{action:{},filter:{}},addAction:function(o,n,r,t){gform.addHook("action",o,n,r,t)},addFilter:function(o,n,r,t){gform.addHook("filter",o,n,r,t)},doAction:function(o){gform.doHook("action",o,arguments)},applyFilters:function(o){return gform.doHook("filter",o,arguments)},removeAction:function(o,n){gform.removeHook("action",o,n)},removeFilter:function(o,n,r){gform.removeHook("filter",o,n,r)},addHook:function(o,n,r,t,i){null==gform.hooks[o][n]&&(gform.hooks[o][n]=[]);var e=gform.hooks[o][n];null==i&&(i=n+"_"+e.length),gform.hooks[o][n].push({tag:i,callable:r,priority:t=null==t?10:t})},doHook:function(n,o,r){var t;if(r=Array.prototype.slice.call(r,1),null!=gform.hooks[n][o]&&((o=gform.hooks[n][o]).sort(function(o,n){return o.priority-n.priority}),o.forEach(function(o){"function"!=typeof(t=o.callable)&&(t=window[t]),"action"==n?t.apply(null,r):r[0]=t.apply(null,r)})),"filter"==n)return r[0]},removeHook:function(o,n,t,i){var r;null!=gform.hooks[o][n]&&(r=(r=gform.hooks[o][n]).filter(function(o,n,r){return!!(null!=i&&i!=o.tag||null!=t&&t!=o.priority)}),gform.hooks[o][n]=r)}});</script> <div class='gf_browser_unknown gform_wrapper gform_legacy_markup_wrapper' id='gform_wrapper_17' ><form method='post' enctype='multipart/form-data' id='gform_17' action='/en/lakken/waterborne-stain/' > <div class='gform_body gform-body'><ul id='gform_fields_17' class='gform_fields top_label form_sublabel_below description_below'><li id="field_17_1" class="gfield medium gfield_contains_required field_sublabel_hidden_label field_description_below hidden_label gfield_visibility_visible" data-js-reload="field_17_1"><label class='gfield_label gfield_label_before_complex' >Naam<span class="gfield_required"><span class="gfield_required gfield_required_asterisk">*</span></span></label><div class='ginput_complex ginput_container no_prefix has_first_name no_middle_name no_last_name no_suffix gf_name_has_1 ginput_container_name' id='input_17_1'> <span id='input_17_1_3_container' class='name_first' > <input type='text' name='input_1.3' id='input_17_1_3' value='' aria-required='true' placeholder='Voornaam' /> <label for='input_17_1_3' class='hidden_sub_label screen-reader-text'>Voornaam</label> </span> </div></li><li id="field_17_2" class="gfield optin gfield_contains_required field_sublabel_below field_description_below hidden_label gfield_visibility_visible" data-js-reload="field_17_2"><label class='gfield_label' for='input_17_2' >Email<span class="gfield_required"><span class="gfield_required gfield_required_asterisk">*</span></span></label><div class='ginput_container ginput_container_email'> <input name='input_2' id='input_17_2' type='text' value='' class='medium' placeholder='E-mailadres' aria-required="true" aria-invalid="false" /> </div></li><li id="field_17_3" class="gfield gform_hidden field_sublabel_below field_description_below gfield_visibility_visible" data-js-reload="field_17_3"><div class='ginput_container ginput_container_text'><input name='input_3' id='input_17_3' type='hidden' class='gform_hidden' aria-invalid="false" value='https://www.korthals.nl/en/lakken/waterborne-stain/' /></div></li><li id="field_17_4" class="gfield gform_validation_container field_sublabel_below field_description_below gfield_visibility_visible" data-js-reload="field_17_4"><label class='gfield_label' for='input_17_4' >Email</label><div class='ginput_container'><input name='input_4' id='input_17_4' type='text' value='' /></div><div class='gfield_description' id='gfield_description_17_4'>This field is for validation purposes and should be left unchanged.</div></li></ul></div> <div class='gform_footer top_label'> <input type="submit" id="gform_submit_button_17" class="gform_button button btn btn-primary" value="DOWNLOAD DIRECT" onclick='if(window["gf_submitting_17"]){return false;} window["gf_submitting_17"]=true; ' onkeypress='if( event.keyCode == 13 ){ if(window["gf_submitting_17"]){return false;} window["gf_submitting_17"]=true; jQuery("#gform_17").trigger("submit",[true]); }'> <input type='hidden' class='gform_hidden' name='is_submit_17' value='1' /> <input type='hidden' class='gform_hidden' name='gform_submit' value='17' /> <input type='hidden' class='gform_hidden' name='gform_unique_id' value='' /> <input type='hidden' class='gform_hidden' name='state_17' value='WyJbXSIsIjJhZmEzYzVhOWIwMGNiYmVjODQ3NDY4MzU3ZTYxY2MyIl0=' /> <input type='hidden' class='gform_hidden' name='gform_target_page_number_17' id='gform_target_page_number_17' value='0' /> <input type='hidden' class='gform_hidden' name='gform_source_page_number_17' id='gform_source_page_number_17' value='1' /> <input type='hidden' name='gform_field_values' value='' /> </div> <p style="display: none !important;"><label>&#916;<textarea name="ak_hp_textarea" cols="45" rows="8" maxlength="100"></textarea></label><input type="hidden" id="ak_js_1" name="ak_js" value="235"/><script>document.getElementById( "ak_js_1" ).setAttribute( "value", ( new Date() ).getTime() );</script></p></form> </div>
[gravityform id="17" title="false" description="false"]
<div class='gf_browser_unknown gform_wrapper gform_legacy_markup_wrapper' id='gform_wrapper_17' ><form method='post' enctype='multipart/form-data' id='gform_17' action='/en/lakken/waterborne-stain/' > <div class='gform_body gform-body'><ul id='gform_fields_17' class='gform_fields top_label form_sublabel_below description_below'><li id="field_17_1" class="gfield medium gfield_contains_required field_sublabel_hidden_label field_description_below hidden_label gfield_visibility_visible" data-js-reload="field_17_1"><label class='gfield_label gfield_label_before_complex' >Naam<span class="gfield_required"><span class="gfield_required gfield_required_asterisk">*</span></span></label><div class='ginput_complex ginput_container no_prefix has_first_name no_middle_name no_last_name no_suffix gf_name_has_1 ginput_container_name' id='input_17_1'> <span id='input_17_1_3_container' class='name_first' > <input type='text' name='input_1.3' id='input_17_1_3' value='' aria-required='true' placeholder='Voornaam' /> <label for='input_17_1_3' class='hidden_sub_label screen-reader-text'>Voornaam</label> </span> </div></li><li id="field_17_2" class="gfield optin gfield_contains_required field_sublabel_below field_description_below hidden_label gfield_visibility_visible" data-js-reload="field_17_2"><label class='gfield_label' for='input_17_2' >Email<span class="gfield_required"><span class="gfield_required gfield_required_asterisk">*</span></span></label><div class='ginput_container ginput_container_email'> <input name='input_2' id='input_17_2' type='text' value='' class='medium' placeholder='E-mailadres' aria-required="true" aria-invalid="false" /> </div></li><li id="field_17_3" class="gfield gform_hidden field_sublabel_below field_description_below gfield_visibility_visible" data-js-reload="field_17_3"><div class='ginput_container ginput_container_text'><input name='input_3' id='input_17_3' type='hidden' class='gform_hidden' aria-invalid="false" value='https://www.korthals.nl/en/lakken/waterborne-stain/' /></div></li><li id="field_17_4" class="gfield gform_validation_container field_sublabel_below field_description_below gfield_visibility_visible" data-js-reload="field_17_4"><label class='gfield_label' for='input_17_4' >Name</label><div class='ginput_container'><input name='input_4' id='input_17_4' type='text' value='' /></div><div class='gfield_description' id='gfield_description_17_4'>This field is for validation purposes and should be left unchanged.</div></li></ul></div> <div class='gform_footer top_label'> <input type="submit" id="gform_submit_button_17" class="gform_button button btn btn-primary" value="DOWNLOAD DIRECT" onclick='if(window["gf_submitting_17"]){return false;} window["gf_submitting_17"]=true; ' onkeypress='if( event.keyCode == 13 ){ if(window["gf_submitting_17"]){return false;} window["gf_submitting_17"]=true; jQuery("#gform_17").trigger("submit",[true]); }'> <input type='hidden' class='gform_hidden' name='is_submit_17' value='1' /> <input type='hidden' class='gform_hidden' name='gform_submit' value='17' /> <input type='hidden' class='gform_hidden' name='gform_unique_id' value='' /> <input type='hidden' class='gform_hidden' name='state_17' value='WyJbXSIsIjJhZmEzYzVhOWIwMGNiYmVjODQ3NDY4MzU3ZTYxY2MyIl0=' /> <input type='hidden' class='gform_hidden' name='gform_target_page_number_17' id='gform_target_page_number_17' value='0' /> <input type='hidden' class='gform_hidden' name='gform_source_page_number_17' id='gform_source_page_number_17' value='1' /> <input type='hidden' name='gform_field_values' value='' /> </div> <p style="display: none !important;"><label>&#916;<textarea name="ak_hp_textarea" cols="45" rows="8" maxlength="100"></textarea></label><input type="hidden" id="ak_js_2" name="ak_js" value="203"/><script>document.getElementById( "ak_js_2" ).setAttribute( "value", ( new Date() ).getTime() );</script></p></form> </div>
[gravityform id="20" title="false" description="false"]
<div class='gf_browser_unknown gform_wrapper gform_legacy_markup_wrapper' id='gform_wrapper_20' style='display:none'><form method='post' enctype='multipart/form-data' id='gform_20' action='/en/lakken/waterborne-stain/' > <div class='gform_body gform-body'><ul id='gform_fields_20' class='gform_fields top_label form_sublabel_below description_below'><li id="field_20_1" class="gfield gfield_contains_required field_sublabel_hidden_label field_description_below hidden_label gfield_visibility_visible" data-js-reload="field_20_1"><label class='gfield_label gfield_label_before_complex' >Name<span class="gfield_required"><span class="gfield_required gfield_required_asterisk">*</span></span></label><div class='ginput_complex ginput_container no_prefix has_first_name no_middle_name no_last_name no_suffix gf_name_has_1 ginput_container_name' id='input_20_1'> <span id='input_20_1_3_container' class='name_first' > <input type='text' name='input_1.3' id='input_20_1_3' value='' aria-required='true' placeholder='First name' /> <label for='input_20_1_3' class='hidden_sub_label screen-reader-text'>First name</label> </span> </div></li><li id="field_20_2" class="gfield gfield_contains_required field_sublabel_below field_description_below hidden_label gfield_visibility_visible" data-js-reload="field_20_2"><label class='gfield_label' for='input_20_2' >Email<span class="gfield_required"><span class="gfield_required gfield_required_asterisk">*</span></span></label><div class='ginput_container ginput_container_email'> <input name='input_2' id='input_20_2' type='text' value='' class='medium' placeholder='E-mail address' aria-required="true" aria-invalid="false" /> </div></li><li id="field_20_3" class="gfield gform_hidden field_sublabel_below field_description_below gfield_visibility_visible" data-js-reload="field_20_3"><div class='ginput_container ginput_container_text'><input name='input_3' id='input_20_3' type='hidden' class='gform_hidden' aria-invalid="false" value='https://www.korthals.nl/en/lakken/waterborne-stain/' /></div></li><li id="field_20_4" class="gfield gform_validation_container field_sublabel_below field_description_below gfield_visibility_visible" data-js-reload="field_20_4"><label class='gfield_label' for='input_20_4' >Phone</label><div class='ginput_container'><input name='input_4' id='input_20_4' type='text' value='' /></div><div class='gfield_description' id='gfield_description_20_4'>This field is for validation purposes and should be left unchanged.</div></li></ul></div> <div class='gform_footer top_label'> <input type="submit" id="gform_submit_button_20" class="gform_button button btn btn-primary" value="DOWNLOAD DIRECT" onclick='if(window["gf_submitting_20"]){return false;} window["gf_submitting_20"]=true; ' onkeypress='if( event.keyCode == 13 ){ if(window["gf_submitting_20"]){return false;} window["gf_submitting_20"]=true; jQuery("#gform_20").trigger("submit",[true]); }'> <input type='hidden' class='gform_hidden' name='is_submit_20' value='1' /> <input type='hidden' class='gform_hidden' name='gform_submit' value='20' /> <input type='hidden' class='gform_hidden' name='gform_unique_id' value='' /> <input type='hidden' class='gform_hidden' name='state_20' value='WyJbXSIsIjJhZmEzYzVhOWIwMGNiYmVjODQ3NDY4MzU3ZTYxY2MyIl0=' /> <input type='hidden' class='gform_hidden' name='gform_target_page_number_20' id='gform_target_page_number_20' value='0' /> <input type='hidden' class='gform_hidden' name='gform_source_page_number_20' id='gform_source_page_number_20' value='1' /> <input type='hidden' name='gform_field_values' value='' /> </div> <p style="display: none !important;"><label>&#916;<textarea name="ak_hp_textarea" cols="45" rows="8" maxlength="100"></textarea></label><input type="hidden" id="ak_js_3" name="ak_js" value="49"/><script>document.getElementById( "ak_js_3" ).setAttribute( "value", ( new Date() ).getTime() );</script></p></form> </div>
[gravityform id="17" title="false" description="false"]
<div class='gf_browser_unknown gform_wrapper gform_legacy_markup_wrapper' id='gform_wrapper_17' ><form method='post' enctype='multipart/form-data' id='gform_17' action='/en/lakken/waterborne-stain/' > <div class='gform_body gform-body'><ul id='gform_fields_17' class='gform_fields top_label form_sublabel_below description_below'><li id="field_17_1" class="gfield medium gfield_contains_required field_sublabel_hidden_label field_description_below hidden_label gfield_visibility_visible" data-js-reload="field_17_1"><label class='gfield_label gfield_label_before_complex' >Naam<span class="gfield_required"><span class="gfield_required gfield_required_asterisk">*</span></span></label><div class='ginput_complex ginput_container no_prefix has_first_name no_middle_name no_last_name no_suffix gf_name_has_1 ginput_container_name' id='input_17_1'> <span id='input_17_1_3_container' class='name_first' > <input type='text' name='input_1.3' id='input_17_1_3' value='' aria-required='true' placeholder='Voornaam' /> <label for='input_17_1_3' class='hidden_sub_label screen-reader-text'>Voornaam</label> </span> </div></li><li id="field_17_2" class="gfield optin gfield_contains_required field_sublabel_below field_description_below hidden_label gfield_visibility_visible" data-js-reload="field_17_2"><label class='gfield_label' for='input_17_2' >Email<span class="gfield_required"><span class="gfield_required gfield_required_asterisk">*</span></span></label><div class='ginput_container ginput_container_email'> <input name='input_2' id='input_17_2' type='text' value='' class='medium' placeholder='E-mailadres' aria-required="true" aria-invalid="false" /> </div></li><li id="field_17_3" class="gfield gform_hidden field_sublabel_below field_description_below gfield_visibility_visible" data-js-reload="field_17_3"><div class='ginput_container ginput_container_text'><input name='input_3' id='input_17_3' type='hidden' class='gform_hidden' aria-invalid="false" value='https://www.korthals.nl/en/lakken/waterborne-stain/' /></div></li><li id="field_17_4" class="gfield gform_validation_container field_sublabel_below field_description_below gfield_visibility_visible" data-js-reload="field_17_4"><label class='gfield_label' for='input_17_4' >Email</label><div class='ginput_container'><input name='input_4' id='input_17_4' type='text' value='' /></div><div class='gfield_description' id='gfield_description_17_4'>This field is for validation purposes and should be left unchanged.</div></li></ul></div> <div class='gform_footer top_label'> <input type="submit" id="gform_submit_button_17" class="gform_button button btn btn-primary" value="DOWNLOAD DIRECT" onclick='if(window["gf_submitting_17"]){return false;} window["gf_submitting_17"]=true; ' onkeypress='if( event.keyCode == 13 ){ if(window["gf_submitting_17"]){return false;} window["gf_submitting_17"]=true; jQuery("#gform_17").trigger("submit",[true]); }'> <input type='hidden' class='gform_hidden' name='is_submit_17' value='1' /> <input type='hidden' class='gform_hidden' name='gform_submit' value='17' /> <input type='hidden' class='gform_hidden' name='gform_unique_id' value='' /> <input type='hidden' class='gform_hidden' name='state_17' value='WyJbXSIsIjJhZmEzYzVhOWIwMGNiYmVjODQ3NDY4MzU3ZTYxY2MyIl0=' /> <input type='hidden' class='gform_hidden' name='gform_target_page_number_17' id='gform_target_page_number_17' value='0' /> <input type='hidden' class='gform_hidden' name='gform_source_page_number_17' id='gform_source_page_number_17' value='1' /> <input type='hidden' name='gform_field_values' value='' /> </div> <p style="display: none !important;"><label>&#916;<textarea name="ak_hp_textarea" cols="45" rows="8" maxlength="100"></textarea></label><input type="hidden" id="ak_js_4" name="ak_js" value="135"/><script>document.getElementById( "ak_js_4" ).setAttribute( "value", ( new Date() ).getTime() );</script></p></form> </div>
[gravityform id="20" title="false" description="false"]
<div class='gf_browser_unknown gform_wrapper gform_legacy_markup_wrapper' id='gform_wrapper_20' style='display:none'><form method='post' enctype='multipart/form-data' id='gform_20' action='/en/lakken/waterborne-stain/' > <div class='gform_body gform-body'><ul id='gform_fields_20' class='gform_fields top_label form_sublabel_below description_below'><li id="field_20_1" class="gfield gfield_contains_required field_sublabel_hidden_label field_description_below hidden_label gfield_visibility_visible" data-js-reload="field_20_1"><label class='gfield_label gfield_label_before_complex' >Name<span class="gfield_required"><span class="gfield_required gfield_required_asterisk">*</span></span></label><div class='ginput_complex ginput_container no_prefix has_first_name no_middle_name no_last_name no_suffix gf_name_has_1 ginput_container_name' id='input_20_1'> <span id='input_20_1_3_container' class='name_first' > <input type='text' name='input_1.3' id='input_20_1_3' value='' aria-required='true' placeholder='First name' /> <label for='input_20_1_3' class='hidden_sub_label screen-reader-text'>First name</label> </span> </div></li><li id="field_20_2" class="gfield gfield_contains_required field_sublabel_below field_description_below hidden_label gfield_visibility_visible" data-js-reload="field_20_2"><label class='gfield_label' for='input_20_2' >Email<span class="gfield_required"><span class="gfield_required gfield_required_asterisk">*</span></span></label><div class='ginput_container ginput_container_email'> <input name='input_2' id='input_20_2' type='text' value='' class='medium' placeholder='E-mail address' aria-required="true" aria-invalid="false" /> </div></li><li id="field_20_3" class="gfield gform_hidden field_sublabel_below field_description_below gfield_visibility_visible" data-js-reload="field_20_3"><div class='ginput_container ginput_container_text'><input name='input_3' id='input_20_3' type='hidden' class='gform_hidden' aria-invalid="false" value='https://www.korthals.nl/en/lakken/waterborne-stain/' /></div></li><li id="field_20_4" class="gfield gform_validation_container field_sublabel_below field_description_below gfield_visibility_visible" data-js-reload="field_20_4"><label class='gfield_label' for='input_20_4' >Email</label><div class='ginput_container'><input name='input_4' id='input_20_4' type='text' value='' /></div><div class='gfield_description' id='gfield_description_20_4'>This field is for validation purposes and should be left unchanged.</div></li></ul></div> <div class='gform_footer top_label'> <input type="submit" id="gform_submit_button_20" class="gform_button button btn btn-primary" value="DOWNLOAD DIRECT" onclick='if(window["gf_submitting_20"]){return false;} window["gf_submitting_20"]=true; ' onkeypress='if( event.keyCode == 13 ){ if(window["gf_submitting_20"]){return false;} window["gf_submitting_20"]=true; jQuery("#gform_20").trigger("submit",[true]); }'> <input type='hidden' class='gform_hidden' name='is_submit_20' value='1' /> <input type='hidden' class='gform_hidden' name='gform_submit' value='20' /> <input type='hidden' class='gform_hidden' name='gform_unique_id' value='' /> <input type='hidden' class='gform_hidden' name='state_20' value='WyJbXSIsIjJhZmEzYzVhOWIwMGNiYmVjODQ3NDY4MzU3ZTYxY2MyIl0=' /> <input type='hidden' class='gform_hidden' name='gform_target_page_number_20' id='gform_target_page_number_20' value='0' /> <input type='hidden' class='gform_hidden' name='gform_source_page_number_20' id='gform_source_page_number_20' value='1' /> <input type='hidden' name='gform_field_values' value='' /> </div> <p style="display: none !important;"><label>&#916;<textarea name="ak_hp_textarea" cols="45" rows="8" maxlength="100"></textarea></label><input type="hidden" id="ak_js_5" name="ak_js" value="136"/><script>document.getElementById( "ak_js_5" ).setAttribute( "value", ( new Date() ).getTime() );</script></p></form> </div>
[gravityform id="20" title="false" description="false"]
<div class='gf_browser_unknown gform_wrapper gform_legacy_markup_wrapper' id='gform_wrapper_20' style='display:none'><form method='post' enctype='multipart/form-data' id='gform_20' action='/en/lakken/waterborne-stain/' > <div class='gform_body gform-body'><ul id='gform_fields_20' class='gform_fields top_label form_sublabel_below description_below'><li id="field_20_1" class="gfield gfield_contains_required field_sublabel_hidden_label field_description_below hidden_label gfield_visibility_visible" data-js-reload="field_20_1"><label class='gfield_label gfield_label_before_complex' >Name<span class="gfield_required"><span class="gfield_required gfield_required_asterisk">*</span></span></label><div class='ginput_complex ginput_container no_prefix has_first_name no_middle_name no_last_name no_suffix gf_name_has_1 ginput_container_name' id='input_20_1'> <span id='input_20_1_3_container' class='name_first' > <input type='text' name='input_1.3' id='input_20_1_3' value='' aria-required='true' placeholder='First name' /> <label for='input_20_1_3' class='hidden_sub_label screen-reader-text'>First name</label> </span> </div></li><li id="field_20_2" class="gfield gfield_contains_required field_sublabel_below field_description_below hidden_label gfield_visibility_visible" data-js-reload="field_20_2"><label class='gfield_label' for='input_20_2' >Email<span class="gfield_required"><span class="gfield_required gfield_required_asterisk">*</span></span></label><div class='ginput_container ginput_container_email'> <input name='input_2' id='input_20_2' type='text' value='' class='medium' placeholder='E-mail address' aria-required="true" aria-invalid="false" /> </div></li><li id="field_20_3" class="gfield gform_hidden field_sublabel_below field_description_below gfield_visibility_visible" data-js-reload="field_20_3"><div class='ginput_container ginput_container_text'><input name='input_3' id='input_20_3' type='hidden' class='gform_hidden' aria-invalid="false" value='https://www.korthals.nl/en/lakken/waterborne-stain/' /></div></li><li id="field_20_4" class="gfield gform_validation_container field_sublabel_below field_description_below gfield_visibility_visible" data-js-reload="field_20_4"><label class='gfield_label' for='input_20_4' >Name</label><div class='ginput_container'><input name='input_4' id='input_20_4' type='text' value='' /></div><div class='gfield_description' id='gfield_description_20_4'>This field is for validation purposes and should be left unchanged.</div></li></ul></div> <div class='gform_footer top_label'> <input type="submit" id="gform_submit_button_20" class="gform_button button btn btn-primary" value="DOWNLOAD DIRECT" onclick='if(window["gf_submitting_20"]){return false;} window["gf_submitting_20"]=true; ' onkeypress='if( event.keyCode == 13 ){ if(window["gf_submitting_20"]){return false;} window["gf_submitting_20"]=true; jQuery("#gform_20").trigger("submit",[true]); }'> <input type='hidden' class='gform_hidden' name='is_submit_20' value='1' /> <input type='hidden' class='gform_hidden' name='gform_submit' value='20' /> <input type='hidden' class='gform_hidden' name='gform_unique_id' value='' /> <input type='hidden' class='gform_hidden' name='state_20' value='WyJbXSIsIjJhZmEzYzVhOWIwMGNiYmVjODQ3NDY4MzU3ZTYxY2MyIl0=' /> <input type='hidden' class='gform_hidden' name='gform_target_page_number_20' id='gform_target_page_number_20' value='0' /> <input type='hidden' class='gform_hidden' name='gform_source_page_number_20' id='gform_source_page_number_20' value='1' /> <input type='hidden' name='gform_field_values' value='' /> </div> <p style="display: none !important;"><label>&#916;<textarea name="ak_hp_textarea" cols="45" rows="8" maxlength="100"></textarea></label><input type="hidden" id="ak_js_6" name="ak_js" value="144"/><script>document.getElementById( "ak_js_6" ).setAttribute( "value", ( new Date() ).getTime() );</script></p></form> </div>
[gravityform id="17" title="false" description="false"]
<div class='gf_browser_unknown gform_wrapper gform_legacy_markup_wrapper' id='gform_wrapper_17' ><form method='post' enctype='multipart/form-data' id='gform_17' action='/en/lakken/waterborne-stain/' > <div class='gform_body gform-body'><ul id='gform_fields_17' class='gform_fields top_label form_sublabel_below description_below'><li id="field_17_1" class="gfield medium gfield_contains_required field_sublabel_hidden_label field_description_below hidden_label gfield_visibility_visible" data-js-reload="field_17_1"><label class='gfield_label gfield_label_before_complex' >Naam<span class="gfield_required"><span class="gfield_required gfield_required_asterisk">*</span></span></label><div class='ginput_complex ginput_container no_prefix has_first_name no_middle_name no_last_name no_suffix gf_name_has_1 ginput_container_name' id='input_17_1'> <span id='input_17_1_3_container' class='name_first' > <input type='text' name='input_1.3' id='input_17_1_3' value='' aria-required='true' placeholder='Voornaam' /> <label for='input_17_1_3' class='hidden_sub_label screen-reader-text'>Voornaam</label> </span> </div></li><li id="field_17_2" class="gfield optin gfield_contains_required field_sublabel_below field_description_below hidden_label gfield_visibility_visible" data-js-reload="field_17_2"><label class='gfield_label' for='input_17_2' >Email<span class="gfield_required"><span class="gfield_required gfield_required_asterisk">*</span></span></label><div class='ginput_container ginput_container_email'> <input name='input_2' id='input_17_2' type='text' value='' class='medium' placeholder='E-mailadres' aria-required="true" aria-invalid="false" /> </div></li><li id="field_17_3" class="gfield gform_hidden field_sublabel_below field_description_below gfield_visibility_visible" data-js-reload="field_17_3"><div class='ginput_container ginput_container_text'><input name='input_3' id='input_17_3' type='hidden' class='gform_hidden' aria-invalid="false" value='https://www.korthals.nl/en/lakken/waterborne-stain/' /></div></li><li id="field_17_4" class="gfield gform_validation_container field_sublabel_below field_description_below gfield_visibility_visible" data-js-reload="field_17_4"><label class='gfield_label' for='input_17_4' >Name</label><div class='ginput_container'><input name='input_4' id='input_17_4' type='text' value='' /></div><div class='gfield_description' id='gfield_description_17_4'>This field is for validation purposes and should be left unchanged.</div></li></ul></div> <div class='gform_footer top_label'> <input type="submit" id="gform_submit_button_17" class="gform_button button btn btn-primary" value="DOWNLOAD DIRECT" onclick='if(window["gf_submitting_17"]){return false;} window["gf_submitting_17"]=true; ' onkeypress='if( event.keyCode == 13 ){ if(window["gf_submitting_17"]){return false;} window["gf_submitting_17"]=true; jQuery("#gform_17").trigger("submit",[true]); }'> <input type='hidden' class='gform_hidden' name='is_submit_17' value='1' /> <input type='hidden' class='gform_hidden' name='gform_submit' value='17' /> <input type='hidden' class='gform_hidden' name='gform_unique_id' value='' /> <input type='hidden' class='gform_hidden' name='state_17' value='WyJbXSIsIjJhZmEzYzVhOWIwMGNiYmVjODQ3NDY4MzU3ZTYxY2MyIl0=' /> <input type='hidden' class='gform_hidden' name='gform_target_page_number_17' id='gform_target_page_number_17' value='0' /> <input type='hidden' class='gform_hidden' name='gform_source_page_number_17' id='gform_source_page_number_17' value='1' /> <input type='hidden' name='gform_field_values' value='' /> </div> <p style="display: none !important;"><label>&#916;<textarea name="ak_hp_textarea" cols="45" rows="8" maxlength="100"></textarea></label><input type="hidden" id="ak_js_7" name="ak_js" value="71"/><script>document.getElementById( "ak_js_7" ).setAttribute( "value", ( new Date() ).getTime() );</script></p></form> </div>
[gravityform id="17" title="false" description="false"]
<div class='gf_browser_unknown gform_wrapper gform_legacy_markup_wrapper' id='gform_wrapper_17' ><form method='post' enctype='multipart/form-data' id='gform_17' action='/en/lakken/waterborne-stain/' > <div class='gform_body gform-body'><ul id='gform_fields_17' class='gform_fields top_label form_sublabel_below description_below'><li id="field_17_1" class="gfield medium gfield_contains_required field_sublabel_hidden_label field_description_below hidden_label gfield_visibility_visible" data-js-reload="field_17_1"><label class='gfield_label gfield_label_before_complex' >Naam<span class="gfield_required"><span class="gfield_required gfield_required_asterisk">*</span></span></label><div class='ginput_complex ginput_container no_prefix has_first_name no_middle_name no_last_name no_suffix gf_name_has_1 ginput_container_name' id='input_17_1'> <span id='input_17_1_3_container' class='name_first' > <input type='text' name='input_1.3' id='input_17_1_3' value='' aria-required='true' placeholder='Voornaam' /> <label for='input_17_1_3' class='hidden_sub_label screen-reader-text'>Voornaam</label> </span> </div></li><li id="field_17_2" class="gfield optin gfield_contains_required field_sublabel_below field_description_below hidden_label gfield_visibility_visible" data-js-reload="field_17_2"><label class='gfield_label' for='input_17_2' >Email<span class="gfield_required"><span class="gfield_required gfield_required_asterisk">*</span></span></label><div class='ginput_container ginput_container_email'> <input name='input_2' id='input_17_2' type='text' value='' class='medium' placeholder='E-mailadres' aria-required="true" aria-invalid="false" /> </div></li><li id="field_17_3" class="gfield gform_hidden field_sublabel_below field_description_below gfield_visibility_visible" data-js-reload="field_17_3"><div class='ginput_container ginput_container_text'><input name='input_3' id='input_17_3' type='hidden' class='gform_hidden' aria-invalid="false" value='https://www.korthals.nl/en/lakken/waterborne-stain/' /></div></li><li id="field_17_4" class="gfield gform_validation_container field_sublabel_below field_description_below gfield_visibility_visible" data-js-reload="field_17_4"><label class='gfield_label' for='input_17_4' >Email</label><div class='ginput_container'><input name='input_4' id='input_17_4' type='text' value='' /></div><div class='gfield_description' id='gfield_description_17_4'>This field is for validation purposes and should be left unchanged.</div></li></ul></div> <div class='gform_footer top_label'> <input type="submit" id="gform_submit_button_17" class="gform_button button btn btn-primary" value="DOWNLOAD DIRECT" onclick='if(window["gf_submitting_17"]){return false;} window["gf_submitting_17"]=true; ' onkeypress='if( event.keyCode == 13 ){ if(window["gf_submitting_17"]){return false;} window["gf_submitting_17"]=true; jQuery("#gform_17").trigger("submit",[true]); }'> <input type='hidden' class='gform_hidden' name='is_submit_17' value='1' /> <input type='hidden' class='gform_hidden' name='gform_submit' value='17' /> <input type='hidden' class='gform_hidden' name='gform_unique_id' value='' /> <input type='hidden' class='gform_hidden' name='state_17' value='WyJbXSIsIjJhZmEzYzVhOWIwMGNiYmVjODQ3NDY4MzU3ZTYxY2MyIl0=' /> <input type='hidden' class='gform_hidden' name='gform_target_page_number_17' id='gform_target_page_number_17' value='0' /> <input type='hidden' class='gform_hidden' name='gform_source_page_number_17' id='gform_source_page_number_17' value='1' /> <input type='hidden' name='gform_field_values' value='' /> </div> <p style="display: none !important;"><label>&#916;<textarea name="ak_hp_textarea" cols="45" rows="8" maxlength="100"></textarea></label><input type="hidden" id="ak_js_8" name="ak_js" value="128"/><script>document.getElementById( "ak_js_8" ).setAttribute( "value", ( new Date() ).getTime() );</script></p></form> </div>
[gravityform id="17" title="false" description="false"]
<div class='gf_browser_unknown gform_wrapper gform_legacy_markup_wrapper' id='gform_wrapper_17' ><form method='post' enctype='multipart/form-data' id='gform_17' action='/en/lakken/waterborne-stain/' > <div class='gform_body gform-body'><ul id='gform_fields_17' class='gform_fields top_label form_sublabel_below description_below'><li id="field_17_1" class="gfield medium gfield_contains_required field_sublabel_hidden_label field_description_below hidden_label gfield_visibility_visible" data-js-reload="field_17_1"><label class='gfield_label gfield_label_before_complex' >Naam<span class="gfield_required"><span class="gfield_required gfield_required_asterisk">*</span></span></label><div class='ginput_complex ginput_container no_prefix has_first_name no_middle_name no_last_name no_suffix gf_name_has_1 ginput_container_name' id='input_17_1'> <span id='input_17_1_3_container' class='name_first' > <input type='text' name='input_1.3' id='input_17_1_3' value='' aria-required='true' placeholder='Voornaam' /> <label for='input_17_1_3' class='hidden_sub_label screen-reader-text'>Voornaam</label> </span> </div></li><li id="field_17_2" class="gfield optin gfield_contains_required field_sublabel_below field_description_below hidden_label gfield_visibility_visible" data-js-reload="field_17_2"><label class='gfield_label' for='input_17_2' >Email<span class="gfield_required"><span class="gfield_required gfield_required_asterisk">*</span></span></label><div class='ginput_container ginput_container_email'> <input name='input_2' id='input_17_2' type='text' value='' class='medium' placeholder='E-mailadres' aria-required="true" aria-invalid="false" /> </div></li><li id="field_17_3" class="gfield gform_hidden field_sublabel_below field_description_below gfield_visibility_visible" data-js-reload="field_17_3"><div class='ginput_container ginput_container_text'><input name='input_3' id='input_17_3' type='hidden' class='gform_hidden' aria-invalid="false" value='https://www.korthals.nl/en/lakken/waterborne-stain/' /></div></li><li id="field_17_4" class="gfield gform_validation_container field_sublabel_below field_description_below gfield_visibility_visible" data-js-reload="field_17_4"><label class='gfield_label' for='input_17_4' >Comments</label><div class='ginput_container'><input name='input_4' id='input_17_4' type='text' value='' /></div><div class='gfield_description' id='gfield_description_17_4'>This field is for validation purposes and should be left unchanged.</div></li></ul></div> <div class='gform_footer top_label'> <input type="submit" id="gform_submit_button_17" class="gform_button button btn btn-primary" value="DOWNLOAD DIRECT" onclick='if(window["gf_submitting_17"]){return false;} window["gf_submitting_17"]=true; ' onkeypress='if( event.keyCode == 13 ){ if(window["gf_submitting_17"]){return false;} window["gf_submitting_17"]=true; jQuery("#gform_17").trigger("submit",[true]); }'> <input type='hidden' class='gform_hidden' name='is_submit_17' value='1' /> <input type='hidden' class='gform_hidden' name='gform_submit' value='17' /> <input type='hidden' class='gform_hidden' name='gform_unique_id' value='' /> <input type='hidden' class='gform_hidden' name='state_17' value='WyJbXSIsIjJhZmEzYzVhOWIwMGNiYmVjODQ3NDY4MzU3ZTYxY2MyIl0=' /> <input type='hidden' class='gform_hidden' name='gform_target_page_number_17' id='gform_target_page_number_17' value='0' /> <input type='hidden' class='gform_hidden' name='gform_source_page_number_17' id='gform_source_page_number_17' value='1' /> <input type='hidden' name='gform_field_values' value='' /> </div> <p style="display: none !important;"><label>&#916;<textarea name="ak_hp_textarea" cols="45" rows="8" maxlength="100"></textarea></label><input type="hidden" id="ak_js_9" name="ak_js" value="247"/><script>document.getElementById( "ak_js_9" ).setAttribute( "value", ( new Date() ).getTime() );</script></p></form> </div>
[gravityform id="17" title="false" description="false"]
<div class='gf_browser_unknown gform_wrapper gform_legacy_markup_wrapper' id='gform_wrapper_17' ><form method='post' enctype='multipart/form-data' id='gform_17' action='/en/lakken/waterborne-stain/' > <div class='gform_body gform-body'><ul id='gform_fields_17' class='gform_fields top_label form_sublabel_below description_below'><li id="field_17_1" class="gfield medium gfield_contains_required field_sublabel_hidden_label field_description_below hidden_label gfield_visibility_visible" data-js-reload="field_17_1"><label class='gfield_label gfield_label_before_complex' >Naam<span class="gfield_required"><span class="gfield_required gfield_required_asterisk">*</span></span></label><div class='ginput_complex ginput_container no_prefix has_first_name no_middle_name no_last_name no_suffix gf_name_has_1 ginput_container_name' id='input_17_1'> <span id='input_17_1_3_container' class='name_first' > <input type='text' name='input_1.3' id='input_17_1_3' value='' aria-required='true' placeholder='Voornaam' /> <label for='input_17_1_3' class='hidden_sub_label screen-reader-text'>Voornaam</label> </span> </div></li><li id="field_17_2" class="gfield optin gfield_contains_required field_sublabel_below field_description_below hidden_label gfield_visibility_visible" data-js-reload="field_17_2"><label class='gfield_label' for='input_17_2' >Email<span class="gfield_required"><span class="gfield_required gfield_required_asterisk">*</span></span></label><div class='ginput_container ginput_container_email'> <input name='input_2' id='input_17_2' type='text' value='' class='medium' placeholder='E-mailadres' aria-required="true" aria-invalid="false" /> </div></li><li id="field_17_3" class="gfield gform_hidden field_sublabel_below field_description_below gfield_visibility_visible" data-js-reload="field_17_3"><div class='ginput_container ginput_container_text'><input name='input_3' id='input_17_3' type='hidden' class='gform_hidden' aria-invalid="false" value='https://www.korthals.nl/en/lakken/waterborne-stain/' /></div></li><li id="field_17_4" class="gfield gform_validation_container field_sublabel_below field_description_below gfield_visibility_visible" data-js-reload="field_17_4"><label class='gfield_label' for='input_17_4' >Phone</label><div class='ginput_container'><input name='input_4' id='input_17_4' type='text' value='' /></div><div class='gfield_description' id='gfield_description_17_4'>This field is for validation purposes and should be left unchanged.</div></li></ul></div> <div class='gform_footer top_label'> <input type="submit" id="gform_submit_button_17" class="gform_button button btn btn-primary" value="DOWNLOAD DIRECT" onclick='if(window["gf_submitting_17"]){return false;} window["gf_submitting_17"]=true; ' onkeypress='if( event.keyCode == 13 ){ if(window["gf_submitting_17"]){return false;} window["gf_submitting_17"]=true; jQuery("#gform_17").trigger("submit",[true]); }'> <input type='hidden' class='gform_hidden' name='is_submit_17' value='1' /> <input type='hidden' class='gform_hidden' name='gform_submit' value='17' /> <input type='hidden' class='gform_hidden' name='gform_unique_id' value='' /> <input type='hidden' class='gform_hidden' name='state_17' value='WyJbXSIsIjJhZmEzYzVhOWIwMGNiYmVjODQ3NDY4MzU3ZTYxY2MyIl0=' /> <input type='hidden' class='gform_hidden' name='gform_target_page_number_17' id='gform_target_page_number_17' value='0' /> <input type='hidden' class='gform_hidden' name='gform_source_page_number_17' id='gform_source_page_number_17' value='1' /> <input type='hidden' name='gform_field_values' value='' /> </div> <p style="display: none !important;"><label>&#916;<textarea name="ak_hp_textarea" cols="45" rows="8" maxlength="100"></textarea></label><input type="hidden" id="ak_js_10" name="ak_js" value="165"/><script>document.getElementById( "ak_js_10" ).setAttribute( "value", ( new Date() ).getTime() );</script></p></form> </div>
[gravityform id="16" title="false" description="false"]
<div class='gf_browser_unknown gform_wrapper vinduwvloer_wrapper gform_legacy_markup_wrapper' id='gform_wrapper_16' ><form method='post' enctype='multipart/form-data' id='gform_16' class='vinduwvloer gform_legacy_markup' action='/en/lakken/waterborne-stain/' > <div class='gform_body gform-body'><ul id='gform_fields_16' class='gform_fields top_label form_sublabel_below description_below'><li id="field_16_1" class="gfield optin gfield_contains_required field_sublabel_hidden_label field_description_below hidden_label gfield_visibility_visible" data-js-reload="field_16_1"><label class='gfield_label gfield_label_before_complex' >Naam<span class="gfield_required"><span class="gfield_required gfield_required_asterisk">*</span></span></label><div class='ginput_complex ginput_container no_prefix has_first_name no_middle_name no_last_name no_suffix gf_name_has_1 ginput_container_name' id='input_16_1'> <span id='input_16_1_3_container' class='name_first' > <input type='text' name='input_1.3' id='input_16_1_3' value='' aria-required='true' placeholder='Voornaam' /> <label for='input_16_1_3' class='hidden_sub_label screen-reader-text'>Voornaam</label> </span> </div></li><li id="field_16_2" class="gfield optin gfield_contains_required field_sublabel_below field_description_below hidden_label gfield_visibility_visible" data-js-reload="field_16_2"><label class='gfield_label' for='input_16_2' >Email<span class="gfield_required"><span class="gfield_required gfield_required_asterisk">*</span></span></label><div class='ginput_container ginput_container_email'> <input name='input_2' id='input_16_2' type='text' value='' class='medium' placeholder='E-mail adres' aria-required="true" aria-invalid="false" /> </div></li><li id="field_16_3" class="gfield gform_hidden field_sublabel_below field_description_below gfield_visibility_visible" data-js-reload="field_16_3"><div class='ginput_container ginput_container_text'><input name='input_3' id='input_16_3' type='hidden' class='gform_hidden' aria-invalid="false" value='https://www.korthals.nl/en/lakken/waterborne-stain/' /></div></li><li id="field_16_4" class="gfield gform_validation_container field_sublabel_below field_description_below gfield_visibility_visible" data-js-reload="field_16_4"><label class='gfield_label' for='input_16_4' >Email</label><div class='ginput_container'><input name='input_4' id='input_16_4' type='text' value='' /></div><div class='gfield_description' id='gfield_description_16_4'>This field is for validation purposes and should be left unchanged.</div></li></ul></div> <div class='gform_footer top_label'> <input type="submit" id="gform_submit_button_16" class="gform_button button btn btn-primary" value="DOWNLOAD DIRECT" onclick='if(window["gf_submitting_16"]){return false;} window["gf_submitting_16"]=true; ' onkeypress='if( event.keyCode == 13 ){ if(window["gf_submitting_16"]){return false;} window["gf_submitting_16"]=true; jQuery("#gform_16").trigger("submit",[true]); }'> <input type='hidden' class='gform_hidden' name='is_submit_16' value='1' /> <input type='hidden' class='gform_hidden' name='gform_submit' value='16' /> <input type='hidden' class='gform_hidden' name='gform_unique_id' value='' /> <input type='hidden' class='gform_hidden' name='state_16' value='WyJbXSIsIjJhZmEzYzVhOWIwMGNiYmVjODQ3NDY4MzU3ZTYxY2MyIl0=' /> <input type='hidden' class='gform_hidden' name='gform_target_page_number_16' id='gform_target_page_number_16' value='0' /> <input type='hidden' class='gform_hidden' name='gform_source_page_number_16' id='gform_source_page_number_16' value='1' /> <input type='hidden' name='gform_field_values' value='' /> </div> <p style="display: none !important;"><label>&#916;<textarea name="ak_hp_textarea" cols="45" rows="8" maxlength="100"></textarea></label><input type="hidden" id="ak_js_11" name="ak_js" value="237"/><script>document.getElementById( "ak_js_11" ).setAttribute( "value", ( new Date() ).getTime() );</script></p></form> </div>
[gravityform id="15" title="false" description="false"]
<div class='gf_browser_unknown gform_wrapper vinduwvloer_wrapper gform_legacy_markup_wrapper' id='gform_wrapper_15' ><form method='post' enctype='multipart/form-data' id='gform_15' class='vinduwvloer gform_legacy_markup' action='/en/lakken/waterborne-stain/' > <div class='gform_body gform-body'><ul id='gform_fields_15' class='gform_fields top_label form_sublabel_below description_below'><li id="field_15_1" class="gfield optin gfield_contains_required field_sublabel_hidden_label field_description_below hidden_label gfield_visibility_visible" data-js-reload="field_15_1"><label class='gfield_label gfield_label_before_complex' >Naam<span class="gfield_required"><span class="gfield_required gfield_required_asterisk">*</span></span></label><div class='ginput_complex ginput_container no_prefix has_first_name no_middle_name no_last_name no_suffix gf_name_has_1 ginput_container_name' id='input_15_1'> <span id='input_15_1_3_container' class='name_first' > <input type='text' name='input_1.3' id='input_15_1_3' value='' aria-required='true' placeholder='First name' /> <label for='input_15_1_3' class='hidden_sub_label screen-reader-text'>First name</label> </span> </div></li><li id="field_15_2" class="gfield optin gfield_contains_required field_sublabel_below field_description_below hidden_label gfield_visibility_visible" data-js-reload="field_15_2"><label class='gfield_label' for='input_15_2' >Email<span class="gfield_required"><span class="gfield_required gfield_required_asterisk">*</span></span></label><div class='ginput_container ginput_container_email'> <input name='input_2' id='input_15_2' type='text' value='' class='medium' placeholder='Email address' aria-required="true" aria-invalid="false" /> </div></li><li id="field_15_4" class="gfield gform_hidden field_sublabel_below field_description_below gfield_visibility_visible" data-js-reload="field_15_4"><div class='ginput_container ginput_container_text'><input name='input_4' id='input_15_4' type='hidden' class='gform_hidden' aria-invalid="false" value='https://www.korthals.nl/en/lakken/waterborne-stain/' /></div></li><li id="field_15_5" class="gfield gform_validation_container field_sublabel_below field_description_below gfield_visibility_visible" data-js-reload="field_15_5"><label class='gfield_label' for='input_15_5' >Phone</label><div class='ginput_container'><input name='input_5' id='input_15_5' type='text' value='' /></div><div class='gfield_description' id='gfield_description_15_5'>This field is for validation purposes and should be left unchanged.</div></li></ul></div> <div class='gform_footer top_label'> <input type="submit" id="gform_submit_button_15" class="gform_button button btn btn-primary" value="DOWNLOAD DIRECT" onclick='if(window["gf_submitting_15"]){return false;} window["gf_submitting_15"]=true; ' onkeypress='if( event.keyCode == 13 ){ if(window["gf_submitting_15"]){return false;} window["gf_submitting_15"]=true; jQuery("#gform_15").trigger("submit",[true]); }'> <input type='hidden' class='gform_hidden' name='is_submit_15' value='1' /> <input type='hidden' class='gform_hidden' name='gform_submit' value='15' /> <input type='hidden' class='gform_hidden' name='gform_unique_id' value='' /> <input type='hidden' class='gform_hidden' name='state_15' value='WyJbXSIsIjJhZmEzYzVhOWIwMGNiYmVjODQ3NDY4MzU3ZTYxY2MyIl0=' /> <input type='hidden' class='gform_hidden' name='gform_target_page_number_15' id='gform_target_page_number_15' value='0' /> <input type='hidden' class='gform_hidden' name='gform_source_page_number_15' id='gform_source_page_number_15' value='1' /> <input type='hidden' name='gform_field_values' value='' /> </div> <p style="display: none !important;"><label>&#916;<textarea name="ak_hp_textarea" cols="45" rows="8" maxlength="100"></textarea></label><input type="hidden" id="ak_js_12" name="ak_js" value="57"/><script>document.getElementById( "ak_js_12" ).setAttribute( "value", ( new Date() ).getTime() );</script></p></form> </div>